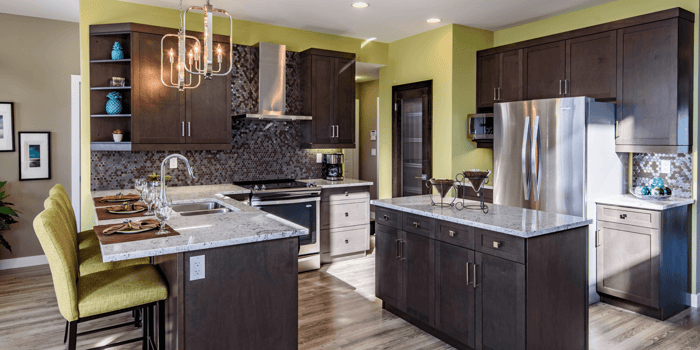 Nothing makes a home feel like it's your own personal palace quite like a dream kitchen. Maybe you dream of having a large island for serving spreads of your best hors d'oeuvres, or better yet, for gathering the whole family together to make perogies or Christmas cookies. Whatever your dream kitchen entails, there are sure to be items you want to consider when building your new home.
Type of Cabinets
A great place to start is with your cabinets. The rest of the design hinges on your selection of wood, finish, colour, and style. There are literally dozens of choices available to you; however, it doesn't need to be that overwhelming. If you make these selections one at a time, you'll quickly see just how beautiful your kitchen will be when it comes together.
Decide first on your cabinet colour. Do you prefer natural wood or a painted colour? If you choose wood, your builder can show you the options, but usually you'll be able to select between oak, maple, cherry, and alder in a variety of stain colours. Melamine, thermofoil, and acrylic are all different types of materials used for cabinets as well giving a different look than wood. And don't forget to experiment; to achieve a modern look, your island can be a different colour than your main cabinets.
Your cabinet style also changes how everything looks in your space. If you prefer modern, you may choose to go with a sleek, simple cabinet style with no decoration. If your style is more along the path of traditional or victorian, you may choose a style that has a lot more character in trim work and ornate features, perhaps extended to the ceiling with a set of glass cabinet inserts on the uppers.
Details Matter
Match the style of your drawers to your cabinet doors for added detail to make the space look more finished. Additionally, your hardware should also make a statement, no matter what style you prefer. Cabinet hardware is often considered the "jewelry" for cabinets. Consider black iron pulls for a traditional look, or sleek, metal hardware for a more modern finish.
The type of faucets and fixtures you choose will add to the overall style you're looking to achieve in your kitchen. Of course, the fancier you get the more expensive the pieces, but faucets and fixtures are almost works of art in today's new homes. If you're looking to achieve the farmhouse look, a style called Waterhill is the ultimate farmhouse faucet.
Lighting

Lighting makes a statement just as much as faucets in your kitchen. Today, lighting can be a focal point, or a strong statement piece that enhances the overall look of your kitchen. The type of fixtures you choose for the space should reflect the style and design you're looking to achieve. Consider the material your lighting is made of, the colour, and how the light itself will play in the space.
Next, think about the placement of your light fixtures, for functionality, ambience, and to highlight certain other elements of your kitchen. For example, if your kitchen has a centre island, hanging pendant lights above it adds a glitzy touch. Pot lights work well in areas that may be underlit, such as under shelving and above countertops, for visibility purposes. For more artistic touches, undercabinet lighting that will highlight a backsplash is a great way to show off your design choices.
Countertops
You certainly can't forget about the countertops. The surface you both work on and admire should be something you truly enjoy. There was a time when laminate counters were the highly desired surface to have, but those days are gone. Today, your counters should be a reflection of both your style and the function of your kitchen. Although laminate countertops are great quality there are other options with major appeal available.
If you bake and cook a lot on your counters, you should consider installing quartz. Quartz is a man-made product that is non-porous but just as beautiful as granite. Non-porous means it will not retain bacteria nearly as much as granite. Cooking on quartz is safer for this reason, but it's also durable – if you spill, it's less likely to soak in and stain.
That being said, granite is not something to shy away from. Granite is a natural product, unique from one slab to the next. It can come with many different spectacular colours, designs, and naturally occurring features that make your kitchen look out of this world. Keep in mind when selecting your granite, however, that when you see a small sample, it may not accurately represent the slab that is installed. Since granite is 100% natural, mother nature dictates what it looks like and no two slabs are the same. If you're uncomfortable with this, quartz may be your better option.
Backsplashes

In addition, you can pick out backsplash tile that will complement the colour and pattern of your countertop for that upscale look. A backsplash is a popular kitchen feature, not only for its stylish touch but also for its convenience. A backsplash will protect your wall beneath by sealing out moisture and cleaning is a breeze – a quick wipe down is all it takes.
While natural stone tile can be beautiful, it is porous and often more expensive. The most low-maintenance options would be porcelain, glass, ceramic, or even metal tile because these materials are non-porous, meaning they're more resistance to scratches and stains. A backsplash is a worthwhile investment for both its aesthetic appeal and ability to retain value over the years.
Spacing and Function
Your kitchen is the room you'll likely spend the most time in from day to day, so you'll want to ensure the layout is something you can work with. When looking at a floor plan, imagine yourself in that kitchen cooking or baking. Do the locations of the appliances work for you? How about the distance from one space to the next, or the size of the pantry? Do you cook with someone else in the space and need to ensure there is enough room for both of you? These are things you may regret later if not considered now.
To ensure that your kitchen is a functional space, make wise choices about the features you include. If you have a large or busy family, storage is likely a priority for you, so look for floor plans that include walk-through pantries where you can store non-perishables and sparsely used appliances. Talk to your builder about deep pots and pans drawers, which are optimally designed to fit those bulky items.
There are many kitchen features to think about when building a new home. Consider everything ahead of time, and ask your builder about the standard new home features, and what would be considered upgrades . This will give you a clear idea of how to get exactly the personalized space you've always wanted, and the space you'll need.