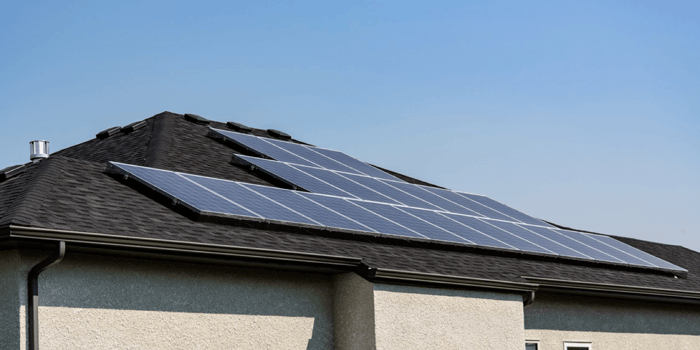 With the increasing cost of energy today, and in the interest of reducing one's carbon footprint, many alternative options can be included in your home. Things like swapping out lightbulbs for LEDs, high-efficiency furnaces, hot-on-demand water systems, and using recycled materials wherever possible, are great examples of how you can make smarter choices for the environment.
If you're thinking of starting your new home journey with Sterling, you'd have the opportunity to take advantage of energy-efficient and environmentally-friendly options that may not even be offered by other builders. Allow us to explain...
Solar is The Best Investment
One option that often goes undiscussed – and yet has a significant impact on how your home saves energy and lowers its environmental impact – is solar power. As technology improves (and electricity rates go up) year by year, solar panels become more affordable and more efficient, creating opportunities for homeowners to make this smart choice for their homes.
Solar panels can be installed in strings of as few or as many as you like. Depending on the amount of energy you want to generate and how much investment you plan to make into the system, this can range from enough panels to power your small appliances up to a full net-zero home.
The amount of power you generate per panel depends on your location, orientation of the panels to the sun, and the average number of daylight hours you expect throughout the year. There will be days your panels generate less or more energy than others. However, at a minimum, you can expect your energy bills to be significantly reduced, and in the case of a net-zero home, you may also be feeding power back into the grid gaining a credit on your account.
Who wouldn't want a lower payment or even credit on their energy bill?
Now We Can Offer You This Option
Sterling Homes has embarked on this new endeavour, offering solar panel installation to its energy-conscious homeowners. As a testament to the service, we have constructed a show home in Taylor Farm that has been outfitted with a 20-panel grid-tied solar energy system from Sunprint Energy.
This system will generate energy for the entire home throughout the whole year and has a lifetime function of 25+ years. Not only does this system save you on energy bills today, but it will protect you from rising energy costs over the lifetime of the panels. The investment you make in a solar panel system for your home will be valuable to your household's sustainability.
If you feel a little intimidated by the idea of investing in this new technology, you'll be happy to know the systems are actually very simple to use. And, perhaps more importantly, they're generally maintenance-free!
No Hidden Costs
These panels, with their lack of moving parts, will require little to no maintenance by the homeowner, meaning your cost of installation is likely the only cost you'll ever face with the system. Typically, the cost of this system will pay for itself within eight to twelve years in the Province of Manitoba.
Not only will solar save you energy costs, protect you from rising energy prices, and repay you in less than a dozen years, but there are cascading effects to this choice as well. Solar panel systems offset as many CO2 emissions as a forest of 1,100 trees. Those overworked trees get a break, and in turn, will help them thrive and live longer to serve the wellness of the ecosystem.
How it Works
We all understand that solar panels only earn energy when the sun is out (even though they can still generate some power in cloudy skies), but let's take a look at how these panels work throughout the day.
On a sunny day, your system will collect solar energy and store it in batteries inside your home. As you use power in your home, the excess energy not used is fed back into the meter, giving you a credit on your energy bill. If it's dark outside, your home will "buy back" the energy from the grid, balancing out your usage. The less energy you use in your home, the more credits you'll earn back from the grid on your energy bill each month. This, in turn, keeps you honest about the power you absolutely need and improves your usage. It's important to remember though that the amount of credits or reduced payment is directly tied in with the amount of energy used by the household.
How Our Show Home is Doing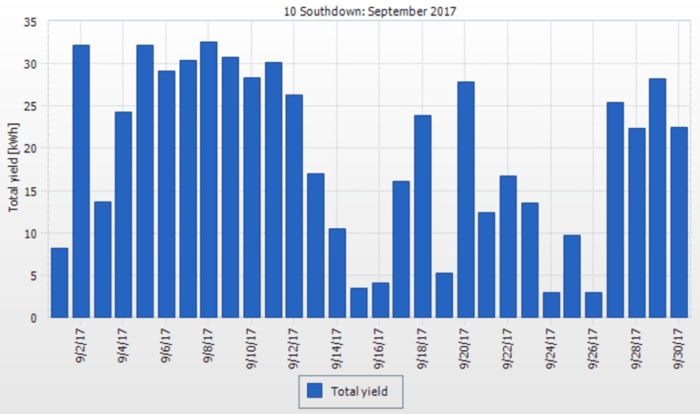 Curious to know how we have faired so far with our own solar system in our show home at 10 Southdown? In the month of September 2017 alone, we generated approximately 583 kWh. This is enough to power the entire home in a standard household usage situation (cooking, lighting, air conditioning, heating, etc.)
Imagine living your life normally without the burden of a high energy bill. We will be happy to chat with you about the benefits of a solar panel system for your new home.
Photo credits:

house