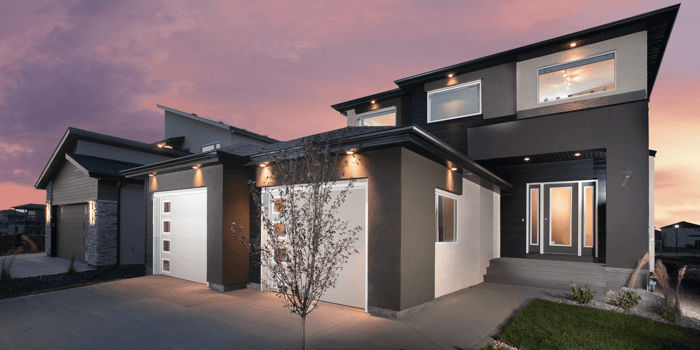 If you've been holding yourself back from building the large family home of your dreams because you don't want to wait so long to move in, we think you're going to be really excited about Sterling's upcoming quick possession home at 7 Munnion Road. With three bedrooms, two and a half bathrooms, and over 2,200 square feet of living space, this home has everything that your family needs to be comfortable.
Learn more about all of the luxuries this home has to offer to help you decide whether or not it might be the right home for you.
Modern Curb Appeal
Based on the Sepino model, you'll quickly see that this home is made to impress. Contrasting colours on the exterior of the home give it a stylish look, and the sharp angles let you know that this is clearly a modern home.
There are two separate garage doors that enter into a single oversized garage. Inside, you'll find plenty of room for two cars to park along with some storage space for things like bicycles and kids' outdoor toys.
Main Floor Flow
Enter the home through the family's entrance in the garage, and you'll find yourself in a large mudroom that will help you keep your family organized. There is a washer and dryer in this room, making it easy for you to take care of muddy sports uniforms or just start a load of laundry while you're taking care of prepping meals in the nearby kitchen.
Guests might enter through the foyer, where 18' ceilings give the space an open feel, and a partial wall gives the dining room a bit of separation. You'll want to host all of the holiday meals for your family in this room.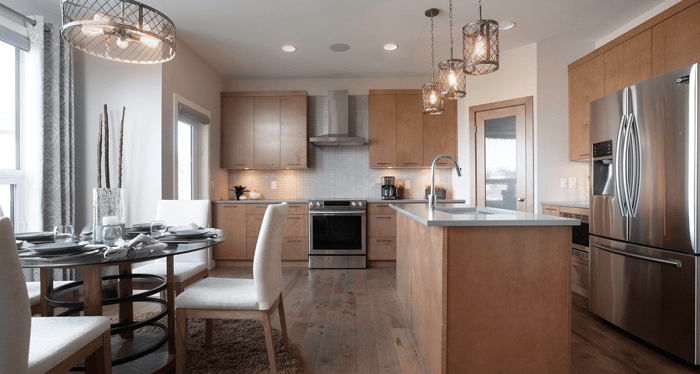 Luxurious hardwood floors connect all of the rooms on the main floor, and the hallway will lead you into the open-concept living area containing the great room and the kitchen. With quartz countertops and a lovely tile backsplash, you'll be happy to head into the kitchen to do some cooking. Once the meal is done, head into the great room to relax.
Family-Friendly Second Floor
Even the stairs in this home have a stylish element. They feature a glass panel instead of the usual wooden railings. Kids will be excited to move into their rooms upstairs. There's space for a full-size bed, a desk, and even a chill out area. Let the kids go wild with the decorations to make a space that's truly their own.
You'll be able to get away to your own private oasis as well. The large master suite has windows to draw in the natural light and a walk-in closet that's easily big enough for two. In the ensuite, enjoy side-by-side sinks in a floating vanity, alongside a separate soaker tub and a tile and glass shower. It's a stunning addition to an already great home.
Dreaming of an extra hangout room? You're in luck. Instead of a fourth bedroom on the second floor, this home features a wide, open loft space. Your family will spend many happy hours in this room making memories.
You may even be able to finish the basement if you'd like more space. We've built the home with a steel beam as support, so the basement can easily be finished. Doing this will add an extra bedroom, bathroom, and rec room area.
Life in Ridgewood West
Ridgewood West is an absolutely lovely up-and-coming community just outside of Winnipeg. It's far enough away from the city that you won't have to deal with the hustle and bustle, while still being close to the types of amenities you want, including things like schools, grocery stores, and even golf courses. Because it has easy access to the perimeter highway, though, you can easily commute to work.
In Ridgewood West, you'll be able to get the large backyard you've been dreaming about. There will be things like walking trails, wetlands, and open green spaces nearby. With a friendly atmosphere, you can be certain that your kids will find new friends nearby. This community is perfect for those who are looking for a more relaxed lifestyle.
If this sounds like the home you've been dreaming about, we welcome you to speak with one of our New Home Sales Consultants. It will be move-in ready in just a few short months, but if you act quickly, there may still be time for you to add your personal touch. At just $649,900, we're certain that this home won't be on the market long, so head out today to see everything that Sterling has to offer.