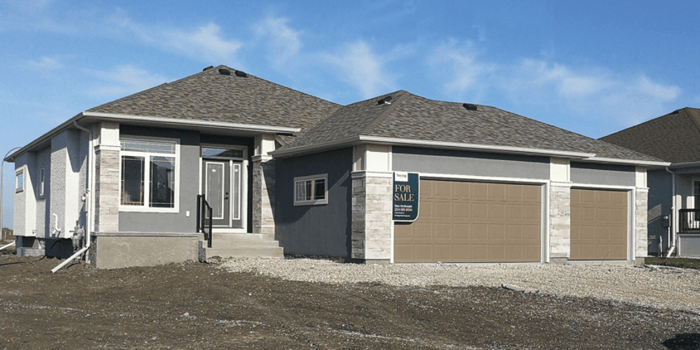 Our latest quick possession home at 2 Wheelright Way is simply stunning, and it's almost completely built, so it will be finished by the time you pack your bags. It's a three-bedroom bungalow-style home with almost 1,700 square feet of living space. With an elegant look to the interior and a spacious open-concept design, you'll feel right at home whether you're relaxing with your family or inviting all of your friends over for a gathering.
Learn more about all of the advantages of this home, then talk to us about how you can make it your own.
Please note that this home may differ slightly from the pictures used in this post.
Built for Entertaining
This home is the right choice for those who like to host parties, dinners, or small social gatherings. There's a formal dining room at the front of the home, just off the beautiful, open foyer. Just imagine how nice it will be to host Thanksgiving dinner in this space. However, you don't need to use the room as a dining room if that doesn't fit your family's needs. Some people turn this into a second living room or a playroom for the kids.
The family will often enter through the three-car garage. This leads you into a nice mudroom so that you can drop off all the bags and shoes to keep the rest of the home tidy. There's also a washer and dryer in this space, so you'll no longer be running laundry up and down the stairs to the basement.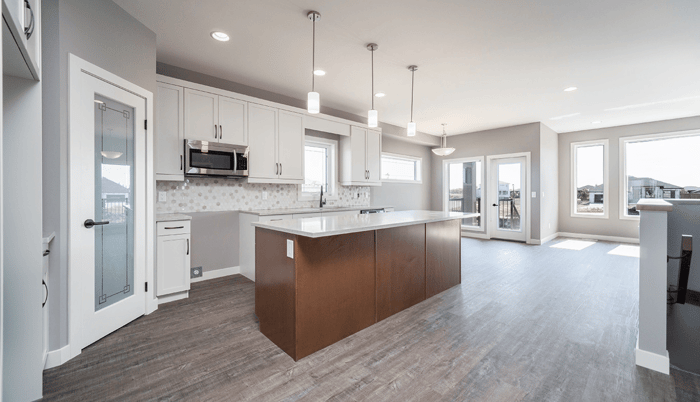 The kitchen sits at the centre of the home, and offers the perfect blend of style and functionality. There are quartz countertops, coventry cabinets with 40.5" uppers, and a stainless steel dishwasher and hood fan. Hanging pendant lights over the island can offer important task lighting for kids doing homework as they sit at the eating lip, or while you're preparing meals. This kitchen offers plenty of storage as well, with the corner walk-in pantry.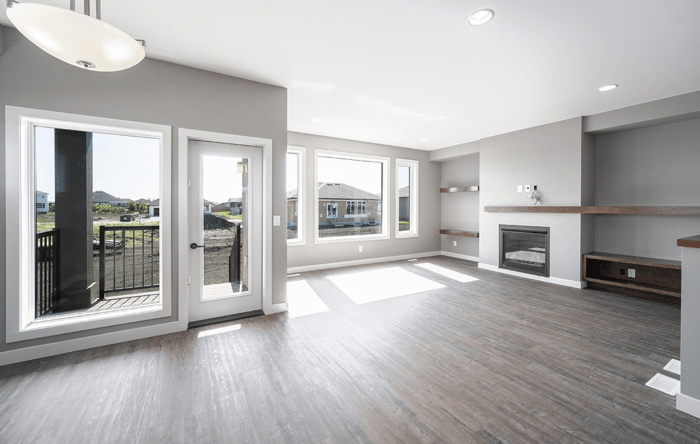 The large great room has a gas fireplace with floating maple shelves surrounding it. Your family can comfortably relax in this room, but there's also enough space for conversational areas at your next party.
When it's time to throw a barbecue, you'll appreciate having all the space in the dining nook, alongside the sliding glass doors that open out onto the composite deck.
The Secondary Bedrooms and Master Suite
Toward the front of the home, there are two cute bedrooms that are perfect for the kids or your guests. It's separated from the living space, so there's a private feel, and the sounds from the great room won't keep people awake. They share a luxurious full bathroom found just outside the bedrooms.
The master suite, though, is certainly a step above. The bedroom area has a lot of space for your bed and other furniture, and natural light will brighten up the space. We've included a super-luxurious upgraded ensuite. It has a cultured granite vanity, a separate soaker tub and ceramic tile shower. You'll love coming here at the end of a long day to relax your cares away.
More Space with a Finished Basement
If your family is looking for something a little bigger, we can make that happen by finishing the basement. We've already designed the basement to have 9' ceilings, which will make the room feel expansive if you choose to finish it. Making this choice will add a fourth bedroom with a walk-in closet, a full bathroom, and a huge rec room. This would make a great hangout space for your teenagers' friends or it could be an in-law suite if you have ageing parents. No matter what you choose to use the space for, finishing it is an affordable way to add the space your family needs.
Life in Oak Bluff West
This home is located in Oak Bluff West, in the southwest part of Winnipeg. Its position gives it a small-town feel, but you're still able to be close to the city for work or fun. Your kids will love playing in the big backyard, and you'll appreciate having all the amenities you need close by. Come check out the community to see if it might be the right place for your family.
As you can see, this home is packed full of all the features your family has been looking for, and the price is just $529,899. Even better, we're including free sod with this purchase, so you won't have to worry about the extra cost. It's time to make your dream home a reality. Talk to one of our New Home Sales Consultants today.