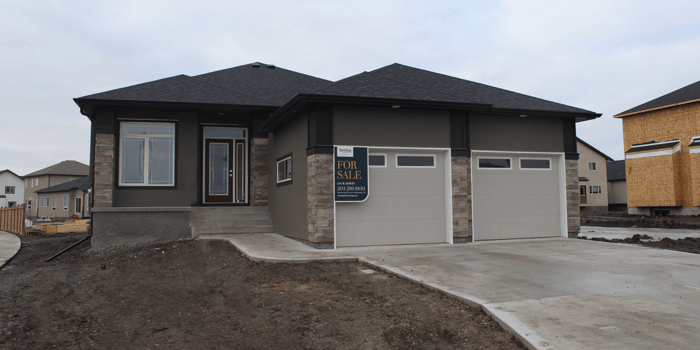 Start packing your bags because Sterling's latest quick possession home at 2 West Plains Drive has a number of stylish upgrades and the single-storey floor plan you've been dreaming about. Best of all, it is almost completely finished. You could be getting the keys to your new home in no time!
Please note that as this home is still under construction it may differ slightly from the photos in this post.
Relaxing and Entertaining
There's a lot to love about the design of the main living area of this home. Those who entertain will enjoy having such a large foyer for welcoming guests. There's also a formal dining room set at the front of the home, where it will get a lot of natural light from the windows. With a cantilevered area, there's just a bit of extra room, allowing you to set up a buffet area for storing china or setting out dishes for your next Thanksgiving meal.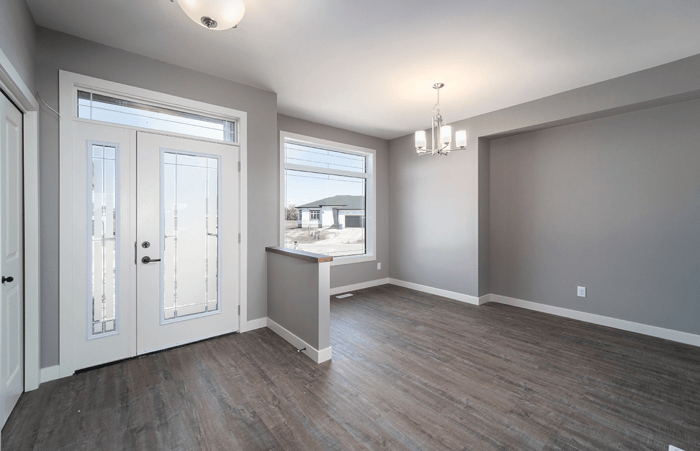 There's plenty of space for two cars in the garage, and your family will most likely enter through this door into the home. Here, you'll step into a mudroom with a convenient washer and dryer. Drop off dirty sports clothes or just appreciate that you'll no longer have to go up and down the stairs when you want to take care of this task.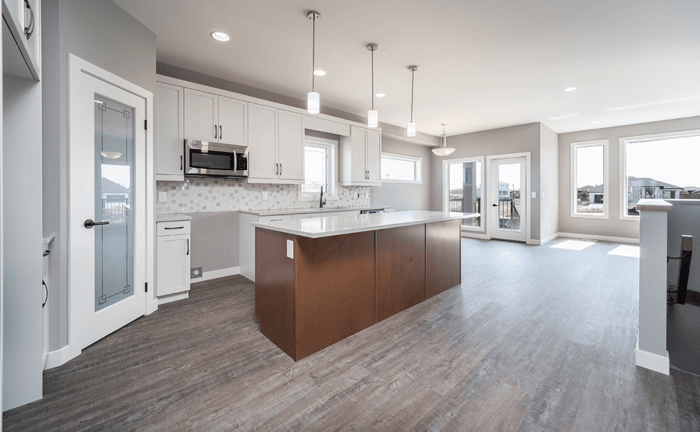 They say that the kitchen is the heart of the home, and that's why we've taken such care to design a kitchen that speaks to your heart. With quartz countertops, a ceramic tile backsplash, and solid maple cabinets, it has a stylish and modern look. You'll also love the convenience of having a walk-in corner pantry for storing your food items. The eating lip at the oversized kitchen island is perfect for casual meals or laying out your party appetizers. The hanging pendant lights produce a soft, elegant glow that's perfect for any occasion.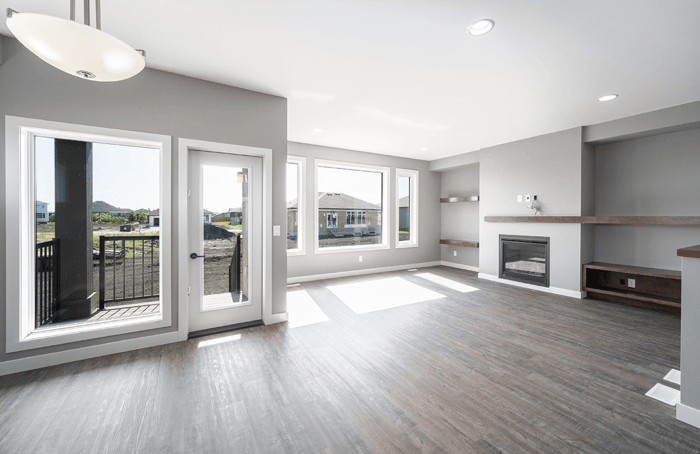 When the weather is cold, you'll want to cozy up to the fire in the great room. We've upgraded the style with a stone surround and floating shelves for decorations or media needs. You could have family game night in this room, or in the eating nook nearby. Either one offers plenty of space for everyone.
If you're dreaming about backyard barbecues, this is the home for you. We've included a composite deck with a roof above to block out the sun. You can easily access the deck through the garden door off the eating nook.
The Bedroom Areas
The bedrooms are all located on one side of the home, providing everyone with a bit of much-needed quiet, particularly when others are still up and relaxing in the main living area. The master suite is absolutely gorgeous. The bedroom itself has all the space you need, but we've chosen to include a number of elegant spa-like features in the ensuite. This includes ceramic tile flooring, a tiled shower with a glass door, and a separate soaking tub. You'll access the walk-in closet through this room. A space-saving pocket door entrance to the ensuite is a nice touch.
There are two additional bedrooms set at the front of the home, along with a shared full bathroom. These rooms are perfect for the kids, but you can also use them as guest rooms if the kids have moved out.
Basement Possibilities
This bungalow-style home is almost 1,700 square feet, so there's plenty of space for the average family, but those who want a little more can choose to finish the basement. We've increased the ceiling height and included a steel beam to support the home rather than vertical posts. This means that it will provide a more open space when you are ready to develop. All you need to do is choose the details you want. Should you choose to finish the basement, you'll get a fourth bedroom with a walk-in closet, a full bathroom, and an enormous rec room. This is a great space for a game room, a man cave, or a craft area.
Life in Sage Creek
We think that you'll love everything about the community of Sage Creek. It has a great location in Southeast Winnipeg, and it's designed to blend with the surrounding nature. You'll find walking trails, ponds, and a quiet atmosphere. It's also close to the types of amenities you need, such as grocery stores, banks, and fitness centres. This is a great area to live in whether you're starting a family or looking for a place to retire.
We've already made the design decisions on this lovely single-storey home, and the price is just $539,899 including the lot and GST. Considering everything you get, this is an absolute steal. If you think this might be the home for you, talk to a New Home Sales Consultant today. You don't want to miss out on a home this nice!