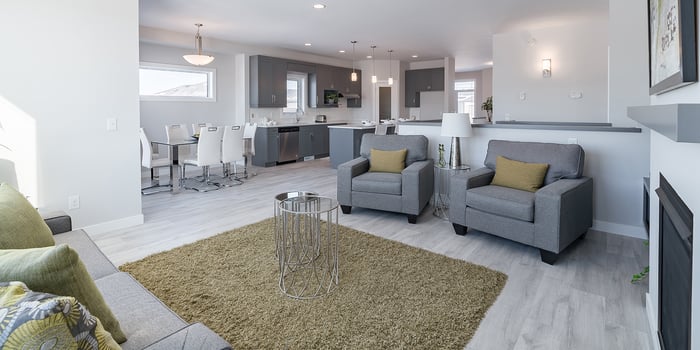 Sterling's latest quick possession home at 16 Carlington Crescent has all the space you need in a single-storey home. Based on the Montara floorplan, this three-bedroom home is perfect for entertaining and just staying in with the family.
You'll love all of the upgrades incorporated into this home! Best of all, you won't have to wait a long time before you can move in. We've already started the work on this home, and it will be finished in just a few months. As this home is still under construction, please note that the finished home may differ slightly from the pictures in this post.
Check out some of the advantages of this bungalow home.
A Welcoming Entrance
We offer plenty of curb appeal with this home. The garage is at the front of the home, with a stylishly welcoming look to the front door next to the garage. Guests will enter through this door into a comfortably sized foyer that gives them a peek into the dining room and the rest of the home. You'll find that there's plenty of space for people to gather as they take off jackets and hand off the dishes they brought to pass at your next party.
The family will most likely enter through the garage, where you'll come into a mudroom. Here, there's plenty of space to hang up jackets, and there's even a washer and dryer in this room. Having the laundry on the main floor is such a big convenience.
An Open Living Space
With almost 1,700 square feet of living space, you just get a bit more when you choose this as your home. There's a formal dining room at the front of the home that's the perfect place for hosting Thanksgiving dinner or children's birthday parties. However, you could also easily turn the room into a kids playroom or home office if that's the sort of thing that makes more sense for your family.
The kitchen has a nice, open feel to it, with an 8' island with an eating lip at the centre. The three pendant lights hanging over the island look elegant while giving you the light you need. With a corner pantry, you can easily stash your food out of sight. Note all of the upgrades in this room: quartz countertops, a ceramic tile backsplash, upgraded cabinetry, and a stainless steel dishwasher and over-the-range hood fan.
The eating nook is just off the kitchen, and you'll find space for a table for regular family meals. Through the sliding doors located here, you'll be able to step out onto the covered composite deck when the weather's nice.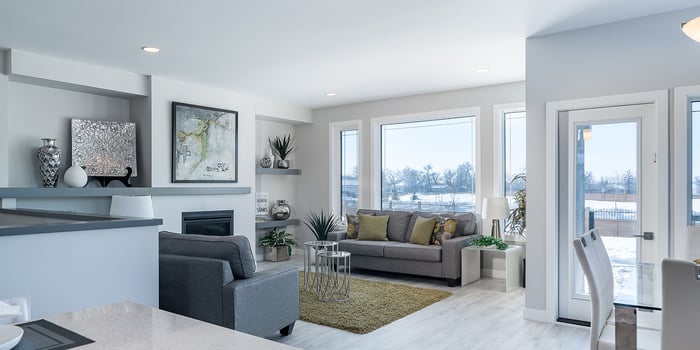 Your family will love to spend their free time in the great room. Not only is there a lot of space for your furniture, but we've added a built-in gas fireplace and surrounding entertainment centre featuring maple floating shelves. It has an elegant look for your modern needs.
Private Family Quarters
In a bungalow home, the bedrooms are located on one side of the home rather than being on a separate floor. This gives you that same type of private feel without needing to deal with going up and down the stairs. This is a must-have feature for anyone who has mobility issues, but it's also smart to think about what your life might look like in the future. You never know when it might be hard to navigate stairs.
The two secondary bedrooms are toward the front of the home. They're a nice size that's perfect for kids to feel like they have their own space. Just outside of their rooms, there's a shared bathroom that's accessible to guests as well.
Your master suite has its own small hallway, so it really does feel like a private getaway. You'll enjoy the size of the bedroom, where there's plenty of space for your bedroom set. A space-saving pocket door leads you into the upgraded ensuite, with a separate shower and soaker tub, toilet, and sink. The vanity top is made of a lovely cultured marble, and you'll just love the way this bathroom looks like something you'd find at a spa. Best of all, the walk-in closet is located off the bathroom, so it's easy to get dressed.
Life in Oak Bluff West
If you've been looking for a quieter, small-town lifestyle, Oak Bluff West is the place for you. Everything you could possibly need is just a few minutes' drive away, and you can easily commute anywhere in the city. At the same time, the community feels connected to nature. There are larger lots and lower taxes, so you can see there are quite a few different advantages of living in Oak Bluff West.
The home we've described to you is just $537,330, but it's important to note that there's still some time to make the addition of finishing the basement. With 9' high ceilings and a steel beam, this would make a great space for entertaining. This will add a bit to the cost, but you can afford it with a price that's starting this low. Come talk to a New Home Sales Consultant about how you can make this home your own.