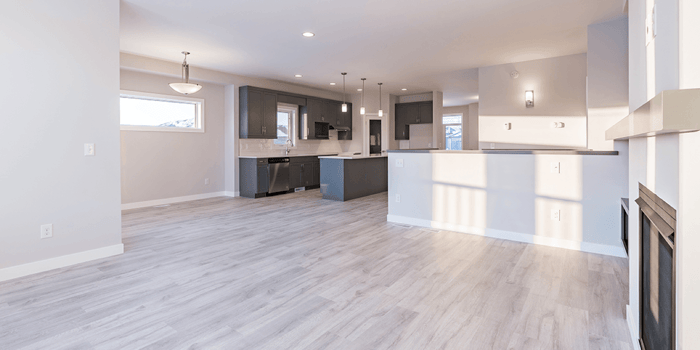 Interested in a brand-new home but need to move right now? Start packing your boxes because Sterling's latest quick possession home at 14 Janakas Place is available for immediate possession!
This is a three-bedroom bungalow-style home, but don't let the name fool you. There's only one main living floor, but the home offers almost 1,700 square feet of living space. That's more than many two-storey homes!
Take a quick tour to see how nice this home could be for your family.

Impressive Curb Appeal
The first thing you'll notice upon driving up to the home is just how lovely it looks from the street. It's a 72' frontage lot, which means that the lot is 72' wide at the front. That might not mean much to you now, but we assure you that a lot this wide is almost unheard of.
The home blends classic and modern designs, with lovely stone trim and stylistic details around the windows. You'll definitely want to show this home off by inviting your friends and family over often.
Enormous Three-Car Garage
The wide lot allows for a three-car garage, which is a really nice touch. Those who have an extra car they only drive in the summer will appreciate the additional space, but those who don't have three cars often enjoy having the extra space for storage as well. It's perfect for those who have a lot of outdoor "toys" like bikes, kayaks, or camping equipment. You won't have to worry about lugging these items up from the basement.
Comfortable Entrances
The home features two entrances. Through the garage, the family will most likely enter into their large mudroom area. Here, there's plenty of space for you to take off your shoes and store your belongings. There's even a laundry area to make it easier to get this task out of the way.
Guests will likely enter the home through the door at the front. This area also feels spacious, with a direct view into the main living area and a stubwall that allows guests to see into the formal dining room.
Centralized Kitchen
The kitchen is the heart of the home, and you'll find it right in the centre. Quartz countertops and a tile backsplash lend an elegant feel to the home. You'll love the pendant lights that hang over the island, where kids might sit to do their homework. The kitchen is functional, as well, though. There's a lot of counter space for you to prep meals or set out food for a party, and the walk-in corner pantry gives you a lot of space for storing your food.
Space-Saving Cantilevers
A particularly nice feature of the design of this home is the inclusion of a few cantilevered areas. You'll find one in the eating nook and the formal dining room at the front of the home. These areas allow you to store some furniture, such as shelving or a buffet without taking up a lot of space in the room itself.
The closets in the secondary bedrooms are also partially cantilevered, again giving more storage space without cutting into the living area.
Beautiful Gas Fireplace
In the great room, the gas fireplace takes centre stage, adding warmth and a sense of grandeur to the room. It's been upgraded to include a built-in entertainment unit around the fireplace. You'll soon see that this room is a great place for relaxing at the end of the day. At the same time, it's large enough that it's ideal for entertaining.
Deluxe Master Suite
You'll love retreating to your master suite. It's tucked in the back corner of the home, and you enter via a private hallway. The bedroom itself includes some built-in shelving, and there are two windows that will let in some natural light. The true beauty of the suite lies in the upgraded master suite. There's a large soaker tub and a separate tiled glass shower. People who choose this floor plan usually appreciate the way the walk-in closet is attached to the bathroom rather than the bedroom. It makes it easy to find clothes after a shower.
Optional Basement Development
The amount of space in this home is perfect for many families, and if that's all you need, you can move in right now. However, if you'd like a bit more space, you can opt to develop the basement. This could include a large rec room, a fourth bedroom with a walk-in closet, and another full bathroom.
Life in Taylor Farm
If you've been dreaming about a quieter lifestyle, this really is the right home for you. It's in the community of Taylor Farm, which is just outside of the city limits in Headingley. This location allows you to take advantage of small-town living while still being close to the city if you need to commute for work or want to experience city life for the day. It's close to nature and walking trails in addition to a variety of stores for convenient shopping. You really can have it all when you live in Taylor Farm.
With an abundance of living space and luxury details, we're sure this home won't last long. The $519,900 price tag makes it a steal! And if you act before February 28th, 2019, you can qualify for our $7,500 appliance package promotion! If this sounds like the home for you, come out to visit it and start the buying process today!