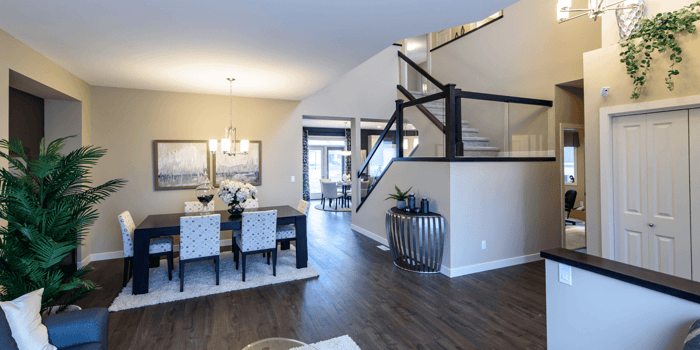 One of the biggest challenges of wanting a brand-new home is knowing that you'll have to wait up to a year before the home is ready. Fortunately, there's another option that more and more home buyers are considering...
Did you know that you can significantly cut down your wait time by purchasing one of Sterling's quick possession homes? Our latest home at 11 Wildflower Way is a large family home in the Sage Creek community. It features three big bedrooms and over 2,500 square feet of living space. It's everything your family needs and more.

Learn more about it below, then talk to a New Home Sales Consultant about making this home your own.
(Please note that the home may differ slightly from the photos in this article.)
Not-So-Open-Concept Living Area
If you've been looking at new homes for a while, you've probably noticed that the open-concept design is incredibly popular. In fact, it's so popular that it's hard to find homes that don't have wide open living spaces on the main floor. If you prefer a more classic layout, you're going to really love this home.
The kitchen and dinette area do open into the family room, but there's a formal dining room and living room separated by a wall. The first floor also includes a completely closed off den area that would make a great home office or library.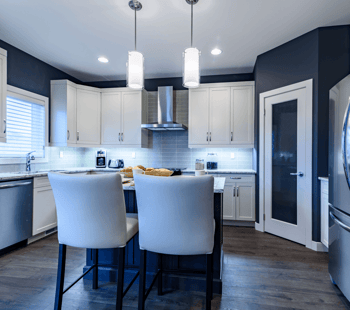 In the kitchen, you'll enjoy the wrap-around style of the counters, with the kitchen sink looking out over the backyard rather than the family room. This means that the full island is available for food prep or casual dining. There's also a walk-in corner pantry in the kitchen, giving you plenty of storage space for your food. We've installed pot lights in the kitchen and family room to give those spaces just the right amount of light. We think you'll really like cozying up to the gas fireplace in the family room when the weather gets cold.
The formal living and dining rooms are the perfect places for entertaining. The cantilevered space in the dining room gives you just a bit more room for placing a buffet or cabinet for your china. There's plenty of space throughout here for friends and family to gather.
Comfortable Upstairs Spaces
The extra square footage in a home this size means that even the kids are able to have large bedrooms on the second floor. This is a great choice if you've been thinking about following the trend of giving kids a full or queen size bed. There will still be space left over for a small desk and toy storage.
Your master suite will delight you as well. It includes an oversized walk-in closet with built-in shelving and a full ensuite with side-by-side sinks. The ensuite has both a 4' tiled shower and a larger soaker tub for you to relax in at the end of the day.
Also on the second floor, you'll find a fun loft space. This is great to use as a hangout space for the kids or as a second family room that you can keep more casual because guests won't see it.
Other Extras
Families today appreciate the convenience of having a laundry room on the first floor. It's just inside the mudroom, so it's easy to drop off dirty work clothes and sports gear for washing. The location also makes it easy to take care of this never-ending family chore while you go about your other daily business.
Families will also love having the 10' x 12' deck that overlooks the back yard. You can head out here through the double garden doors in the kitchen. It's the perfect place for a barbecue or just relaxing when the weather is nice.
Make Your Mark
If you act quickly, you can still put your personal touch on this home. We've made all of the decisions about the "bones" of this home, including the layout, but we haven't done things like picking out the colours. If that's something that's important to you, there's an opportunity to do this. You also have the option of finishing the basement.
Life in Sage Creek
Sage Creek is an up-and-coming community in the southeast part of Winnipeg. It's just inside the city perimeter, giving you easy access to highways that will take you anywhere you need to go. When it comes to the basics, though, you won't have to go far. The Sage Creek Village Centre includes popular stores such as Shoppers Drug Mart and Sobey's.
Residents of Sage Creek also tend to appreciate the amenities right in the community. Not only will you have a nice backyard, but you'll have access to paved walking trails that meander through natural wetlands and native grasses. The beautiful surroundings will make you excited to get outside for a walk.
This home is the perfect place for a family looking to move up into something a lot bigger. With all of this space in a convenient location, you can't go wrong. Come out today to see the Sage Creek community and talk with a New Home Sales Consultant.