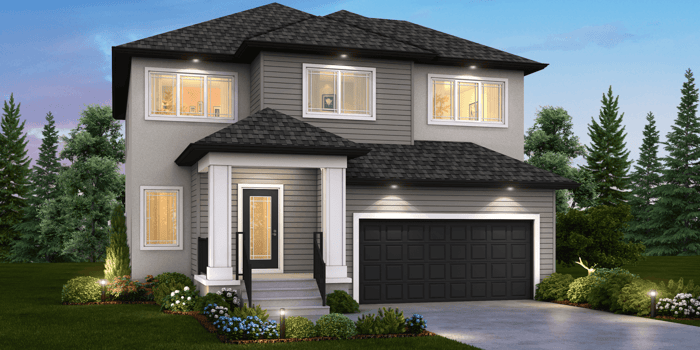 Do you like the idea of a brand-new home, but wish that you didn't have to wait so long for it to be built? If so, you're going to love Sterling's latest quick possession home at 81 Cherrywood Road in Bridgwater Trails. With four bedrooms and over 2,300 square feet of space, it's the perfect family home.
Best of all, you'll be able to move in during the spring of 2019! Here's a video to give you a better idea of how well this home, based on our Saratoga model, will fit your family's needs.

Please note that this home is still currently under construction so may not be exactly as shown from the photos in this post.
Functional for Families
At Sterling, we know how important it is for families to have a home that fits their lifestyle. That's why we think you're going to be happy with this home's first-floor layout. Through the entrance from the garage, you'll enter into a large mudroom to help you keep the home clean and organized. There's space for a washer and dryer right in this room, so it's easy for you to take care of muddy clothes right away, but the location is also ideal for everyday loads of laundry.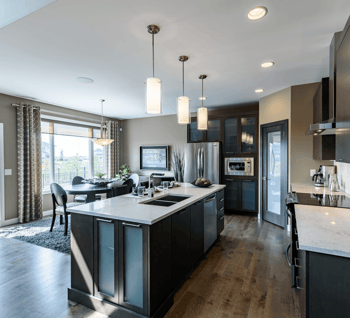 Putting groceries away is a snap when you just have to take them from the garage into the walk-thru pantry. Here, you'll find plenty of space to store food items in addition to small appliances that you don't want taking up space in the kitchen. You'll love the way the sink and counter space on the island allow you to prep and clean up after meals while looking out onto the rest of the home. Perhaps the kids will play in the great room or sit at the island's eating lip doing their homework while you finish up dinner. There's also a larger-than-average dining nook that's perfect for family meals or to invite a few friends over to sit and chat.
People also love the den at the front of this home. It gives you even more living space to use for whatever you want, whether that's a home office, a playroom, or a quiet library for reading.
Understated Elegance
Don't let our talk about the functional elements of the home fool you into thinking that it doesn't have the sophisticated style you're looking for in a new home. This home has an elegance that you have to see to believe. It's all around you in things like the flooring, the flat painted ceilings, and the hanging pendant lights over the island, but there's no place in this home more beautiful than the great room.
This room is open to the second floor, allowing the room to feel absolutely expansive. Large windows throughout the space bring in an amazing amount of light. The focal point of the room, though, is the gas fireplace and entertainment unit built into the great room side wall cantilever. It's easy to picture your family snuggled up in this room watching a good movie.
Space for Everyone
Even in some of today's larger homes, it can be hard to find a floor plan that includes four bedrooms on the second floor. That's exactly what you'll find in this home! The three rooms for the kids/guests sit at the front of the home with their entrances separate from the master.
The master suite is especially nice. There's a walk-in closet right at the entrance, and we've included a deluxe ensuite that has a large soaker tub and a separate 4' shower. You'll love coming here to get away from it all.
Additional Options Available
While this home has the advantage of a shorter move-in time because it's a quick possession home, it's still in the process of being built. This means that if you would like us to finish the basement or have some specific design ideas in mind, there's still some time for you to add your personal touch. Just talk to a New Home Sales Consultant about what options are still available.
Life in Bridgwater
Our latest quick possession home is in the desirable community of Bridgwater Trails. This community is a popular choice because it's very close to many retail locations as well as easy access to the perimeter while still being surrounded by trees and natural beauty. Currently, you'll find favourite stores like Save-On-Foods and Shoppers Drug Mart nearby, but the area is also expanding, so there will be many new amenities soon after you move in. If you're looking for a great community that has it all, you can't pick a better place than Bridgwater Trails.
Think this sounds like the right home for you? Simply fill out the form on this page and one of our knowledgable Sales Consultants will be in touch with you soon. Don't miss out on this great home - it won't last long!