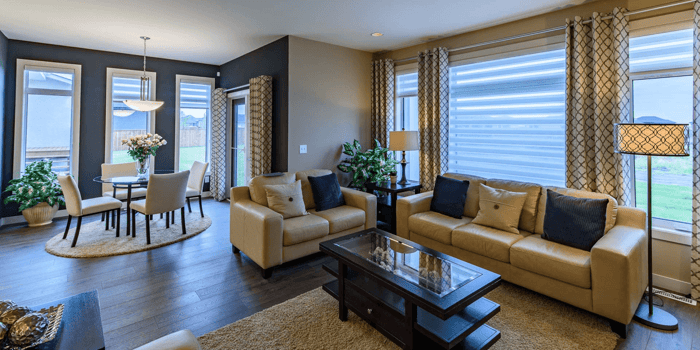 We've all heard the term "go big or go home", but is going big always the best solution? When it comes to your home, it may not be. We can all get swept up in those reality home shopping television shows where people seem to be able to buy a mansion for a few pennies, but when reality takes a bite we realize that's not going to happen here.
In considering the average price range of a new home build, you'll also want to ensure your budget matches the space you need.
But how do we determine just how much square footage we need for our families, and which floor plan will work best? The first deciding factor is whether you need a bungalow or a two-storey style home.
Bungalow

A bungalow is a great solution for a family with very young children, if you're a little nervous about them navigating stairs, or you just don't want baby gates all over your home.
The San Antonio

As an example, the San Antonio model is a wonderful 1543 square foot bungalow with three bedrooms on the same floor. The secondary bedrooms are in the centre of the floor plan, allowing you to hear your little ones from both your master bedroom and the kitchen. A convenient eat-in area in the kitchen allows for quick breakfasts on the way out the door, and a formal dining room at the front of the home provides space for more relaxed family meals. The overall square footage is large enough to fit your whole family comfortably, yet not so large that keeping it tidy and clean is a daunting chore.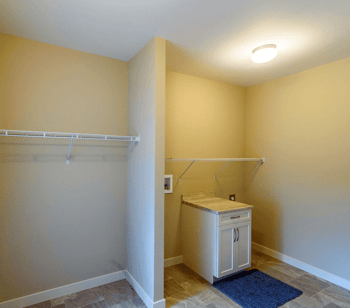 The Delano

For the family that needs a bit more space but still prefer all of their living space on one floor, the Delano bungalow may be the ideal home. At 1882 square feet, this spacious single-level home offers an oversized two-car garage with plenty of space for a workshop, three bedrooms with plenty of breathing room, a large formal dining area, separate eating nook off the kitchen and great room, main floor laundry and attached covered back porch area with optional deck. The basement is where the potential soars, with its wide open dual recreation room spaces and additional bedroom space. Complete with an estate-style front elevation design, this home is just the right amount of space and luxury.
Two-Storey

If a bungalow isn't your style, looking through a plethora of two-storey floor plans can be invigorating. Think about the reasons your current home isn't working for you, and look for those items in a new floor plan. Even if you don't find it in a new floor plan, building a new home means you may be able to slightly alter a floor plan to include those items.
Does your family prefer upper floor laundry for convenience? Does your ensuite have dual vanities to make morning routines far less cramped? Does your current home even have an ensuite? What about outdoor space?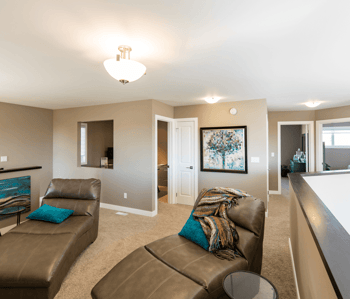 The Acadia

The Acadia, at 2208 square feet and two storeys, is a uniquely beautiful model. If you like attached outdoor space, this model offers two of these areas. Creating a majestic front elevation design is a spacious wood porch stretching across the front of the home. Calm, summer evenings are wonderful as you're curled up on a comfortable chair with a cup of tea. At the back of the home, adjacent to the dining room, is an oversized optional screened room, where you can fully enjoy a beautiful summer afternoon without the worry of wasps or mosquitos. You can even enjoy your dinner in the breeze.
This model also offers a spacious flex room for a home office, kids' playroom, or collective homework space. The second floor is just as functional with its three spacious bedrooms, each with its own walk-in closet for oodles of extra storage space. If your family has grown and needs more room to stretch, the Acadia is a show-stopper.
The Brookview

If your family needs to extend past a standard three bedroom home, the Brookview may be the perfect solution. Not only does this 2,421 square foot home offer a stunning open-to-below space in the great room, but a bonus family room space upstairs can also be converted into a full fourth bedroom. If your kids are tired of sharing a room, this home has plenty of space to stretch out, complete with an upstairs laundry room next to the secondary bedrooms. Mom and Dad don't need to sacrifice space either, the master bedroom is vast with a large walk-in closet and fully equipped ensuite containing a large soaker tub, shower, and linen closet.
Choosing a floor plan that is right for your family is all about exploring. With more than 20 models to choose from, there's sure to be a floor plan that fits all of your family's needs and desires for your next new home.