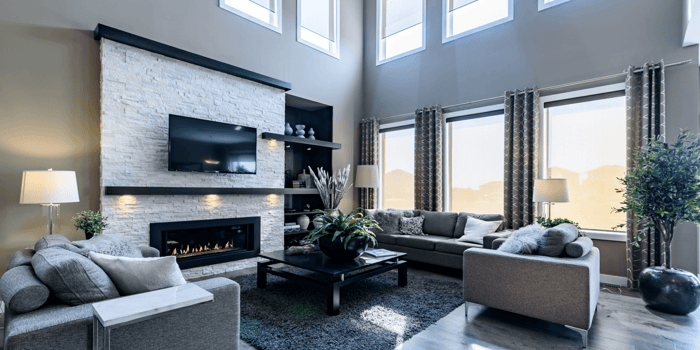 One of the biggest advantages of building your own home is being able to incorporate some of the latest design trends. While you always want to be careful to avoid choices that will seem outdated in a few years, it's fun to choose a few trending ideas you really like.
We've put together some of the most practical ideas professional interior designers are expecting to be hot in 2019.
Small Space Solutions
These days, we're seeing that people are being quite practical about the amount of space in their home. While some people might want formal dining rooms or living rooms, new homes give you more versatility by having rooms with multiple purposes. There might be a small desk area in the living room or built into a second floor nook. The home office doubles as a guest room when family visits.
This means that furniture and home design choices have to make it easier to live in a smaller space. Built-in shelving, for instance, doesn't take up any of the square footage in the room. It is a major space-saver in the great room, especially if you want a built-in entertainment unit. We're also seeing a greater use of furniture that converts: a sofa that turns into a bed, tables that can stack when not in use, or built-in options, like Murphy beds.
Eco-Friendly Designs
Everyone is concerned about preserving the environment, and we see this more and more in the design choices that people are making. Of course, in creating a new home, consumers have the option to create something that's incredibly energy-efficient: orienting the home to take advantage of the sun's rays or using triple-pane windows. Some people are also choosing recycled building materials.
We're also seeing a strong desire to bring natural elements into the home. This starts by having large windows that let in a lot of natural light (as mentioned above). People also decorate their windows with plants. Some people are even going so far as to create "living walls." These are walls that grow plants, especially fresh herbs that can be used when cooking.
"Spiced Honey" as Your Neutral Colour
It's still popular to have neutral colours throughout the home, and then incorporate colour through the furnishings or accent pieces. In recent years, "greige" — a colour between grey and beige — has been the colour of choice, but we expect to see a shift to using "spiced honey" as the preferred neutral colour. This Colour of the Year is a sort of soft brown that works well with a variety of design choices.
Statements in the Bathroom
In the past, bathrooms have been basic and functional. You've probably noticed that bathrooms have been becoming more spa-like recently, especially with the must-have addition of an ensuite in the master bedroom.
Continuing this trend, it's becoming more popular to make a statement in the bathroom. For some, this means a colourful statement wall. Some are choosing to hang a large piece of artwork above the soaker tub. If doing this, though, you want to make sure that it's framed properly for use in a high-humidity room like the bathroom.
Finally, we're seeing people make more interesting statements with the tiling on the floor or in the shower. For instance, "mermaid tiles" have a unique shell-like shape, and they look really nice in the shower.
Dark or Contrasting Colours in the Kitchen
In today's open-concept floor plans, the kitchen is always visible. This means that people are carefully making their selections for this room. While using light colours in the kitchen has been a popular choice because it makes the room feel brighter, many people are opting for darker colours in the kitchen to make a bigger design statement. Often, this look gets paired with some contrasting colours in the countertops. For instance, if you were to choose a black or almost-black colour for the cabinets, you might choose a stark white colour for the quartz countertops.
Smart Home Upgrades
A lot of people have already taken steps to make their homes smarter, including things like thermostats, door locks, and security cameras that can all be controlled from a smartphone. With these basics covered, you now have an opportunity to incorporate some fun things into the design of the home. These things include colourful light panels on the wall you can control with a touch of a button and smart appliances that tell you when you're running out of coffee.
As you can see, most of the design trends for 2019 are both beautiful and practical. We think that you'll want to incorporate many of them as you build your home.