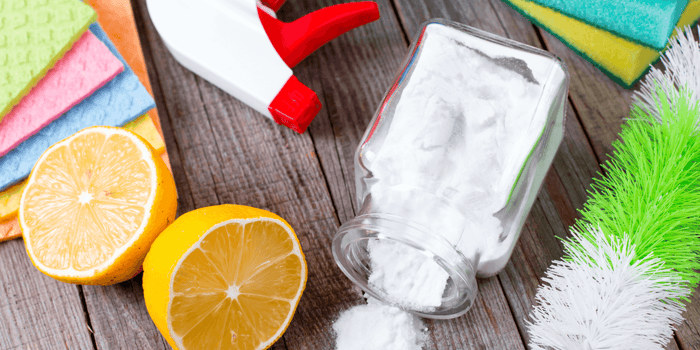 Thoroughly cleaning a home is a task many of us don't look forward to because there are so many harsh chemicals involved in commercial cleaning products.
What if there was a way to keep your home looking sparkling clean while avoiding the nasty stuff?
Going green might be just what you need. It's probably easier than you thought, too.
Using natural alternatives is good for the environment, keeps your home looking great, and helps you save money – it pays to go green. Best of all, it's actually quite easy to make the switch.
Common Ingredients in Homemade Green Cleaning Products
Some of the ingredients that are most helpful in green cleaning include:
Baking soda

Lemon juice

Vinegar

Salt
You probably already have these ingredients at hand, anyway. If not, you'll want to start including them on your shopping list. A quick mix of vinegar, baking soda, and water in a spray bottle makes a huge difference. It can be that easy to keep your kitchen features looking brand new.
Cleaning Your Bathrooms
A bathroom is one area of your house that can get very messy, very quickly, despite your best efforts. Natural cleaning techniques will help keep your bathrooms hygienic and also avoid the harsh odours and toxins of most bathroom cleansers.
Tile and grout – A vinegar mixture of 1/4 cup in a 32-ounce spray bottle with water will help make your tile floors look great. To get rid of troublesome mould or dirt on tile grout, try a mixture of Castille soap and baking soda, or one cup of borax to a gallon of water.
Mirrors and glass – Adding 1/4 cup of vinegar to a 32-ounce spray bottle with distilled water creates an effective, streak-free glass cleaner. Always use microfibre cloths to wipe to avoid leaving lint behind.Vanity and sink areas – Castille soap, mixed with glycerin, baking soda, and essential oils for more fragrance, makes an effective cleaner for a sink or vanity. Another handy thing about this combination is that it's also useful as a body wash or shampoo.
Toilets – If you want to bleach your toilet without the toxic chemicals, try using hydrogen peroxide on those tough stains. Add some baking soda for extra freshness.
Polishing Your Furniture
Everyone loves the beautiful finish furniture polish offers, but this product can also be full of toxins. The good news is that your kitchen probably holds the remedy you need for gorgeous furniture: one part lemon juice and two parts olive oil will do the job. You can also use lemon essential oil if you need this mixture to be stored for use over several weeks.
Cleaning Your Carpets and Floors
Keeping your floors clean can be frustrating, especially during snowy or rainy weather. The most helpful thing to remember is that green solutions also work well on both carpet and other flooring types for every room in your home. You might find that green solutions work even better than commercial options.
A mixture of white vinegar with baking soda and salt makes an effective carpet cleaner that gets out even tough messes like pet stains or spilt coffee. Make sure you spray deeply stained areas with equal parts water and vinegar first. In the case of pet odours, taking this step will discourage them from having an accident in the same spot.
Floor surfaces have different natural cleaning methods based on the material:
Vinyl – A cup of vinegar in a gallon of water will fix most vinyl floor messes, big or small. You could also try a cup of Borax mixed into a gallon of water for greater cleaning power.

Hardwood – Boiling water with two black tea bags works well on hardwood because the tannic acid helps condition the wood. A vinegar and water cleaner also works well.

Ceramic – The vinegar and water solution also works very well on ceramic tiles. Be sure to clean the grout very thoroughly.
When you use natural cleaning methods to keep your home looking great, you'll be both pleased with the results and do your part to help the environment. New homes feature a variety of surfaces for counters and floors that look fantastic, so you'll want to make sure you always use the best cleaning methods to keep it that way.