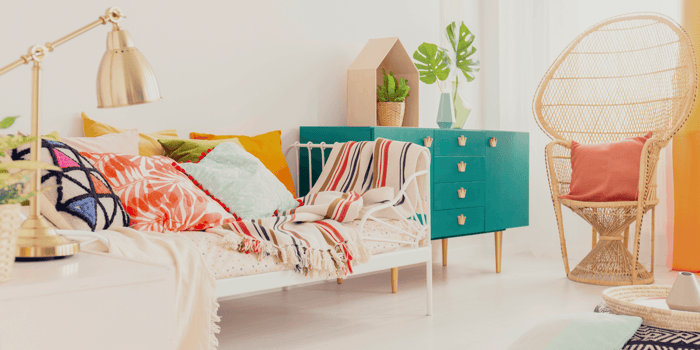 You're too funky to want to stick with the boring looks that you see on the design floors today - you want something a little different. Perhaps it's time to get some inspiration from the '60s. You'll find a surprising amount of variety in the styles, so it's easier to find a look that fits your personality.
Step back in time with us as we present you with some of the most popular home decor from the '60s.
The Mid-Century Modern Look
While the mid-century modern look started earlier in the century, it certainly remained popular well into the '60s, and this might be what you're thinking about when you consider '60s home design. In general, the focus of the mid-century look is on sleek, tight lines. For instance, the sofa and chairs in the living room should have a fairly low profile rather than having overstuffed cushions.
You'll also see a lot of solid, contrasting colours. Black and white were always popular, but you can substitute other colours as well.
The Space Age Look
With the excitement of the space race during this decade, there was definitely a lot of interest in designs that looked out-of-this-world. Architecture, in particular, was futuristic with some homes designed to look like spaceships. While you probably can't build a home with that look in one of the new developments popping up all over Winnipeg, you can recreate the feel inside your home with the right accessories.
This look can often be captured with some of the popular chair designs from that time period. Ball chairs, for instance, were top-sellers back then, and they will make you feel like you're captaining a spaceship. On the other hand, it's easier to find affordable butterfly chairs these days, and they still have a nice, funky look.
The Groovy Look
If you're looking for something that's reminiscent of the era but still somewhat understated, look for things that we feel fall into the groovy category. This could mean having a nice shag carpet in a colour you absolutely love. You can easily find area rugs in this style in a variety of sizes. Any accessories with daisies, polka dots, or starburst shapes could also fit into this look. The key to making it work is to not have anything too overbearing. For instance, you wouldn't want a couch that's completely covered with a floral pattern, but if you had a solid-coloured couch and some pillows with a few daisies or sunflowers on them, you'll have a nice look.
Also, think about including some plants around the home. In particular, hanging plants brighten up almost any space.
The Boho Look
If you spent the '60s following the Grateful Dead - or you wish you had - you might appreciate the Boho look. With this style, you can mix and match pieces that you love, and you're encouraged to incorporate a lot of colour and different patterns into the look. What makes this look one of the most fun styles is that you're able to add to it over time rather than feeling like you have to buy everything at once. Plus, if you commit to this style, you can be almost certain that people will always be able to find some funky things for your home decor each birthday.
60s Colour Palettes
You may not need to buy all your furniture and accessories from a retro store to capture the spirit of the '60s. Certain colour palettes simply stand out as reminiscent of the era, and by using these colours together, you can get the same feel.
Perhaps the most common palette would be brown paired with a burnt orange or avocado green. In using this combination, the brown is typically the colour most used in the space (60 percent if you're using the 60-30-10 method), while the other colours act as accents. It was also relatively common to see some pastels -- blue and pink in particular -- used judiciously in rooms like the kitchen, the bathroom, or the bedroom. Having the toilet, sink, and tub be pink might seem a bit overboard now, but it wasn't unusual back then. However, you might prefer using these colours more subtly.
The '60s were a fun time for home decor, and you can definitely bring some of that feeling into your home through various accent pieces and accessories. Certain design choices in the build of your home could also help you create the look, so don't be afraid to ask your New Home Sales Consultant or interior decorator for some suggestions.