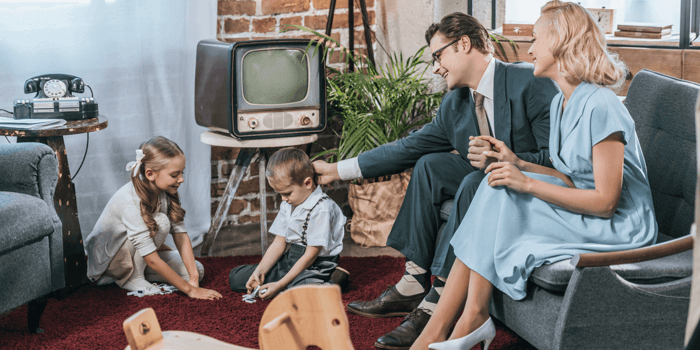 The 1950s had a very unique aesthetic that many homeowners continue to incorporate into their modern design plans. The clean lines and colourful details can make for a fun environment, but they can also make a modern home look outdated.
While there's nothing wrong with fully committing yourself to the 1950s look, we've found that most people like to keep things looking current while incorporating some of the ideas and styles from the 1950s. Check out our ideas to see if they might be right for your home.
Kitchens
The kitchens of the 1950s are often the first thing that comes to mind when people think about '50s decor. Things like cabinets painted in a seafoam green or a red refrigerator tend to stand out in your mind. But the other thing to think about is how the 1950s were one of the first times people started to have some interest in open-concept living areas, with a kitchen that easily connected to the living room. Wide countertops with space for food prep and serving were also common.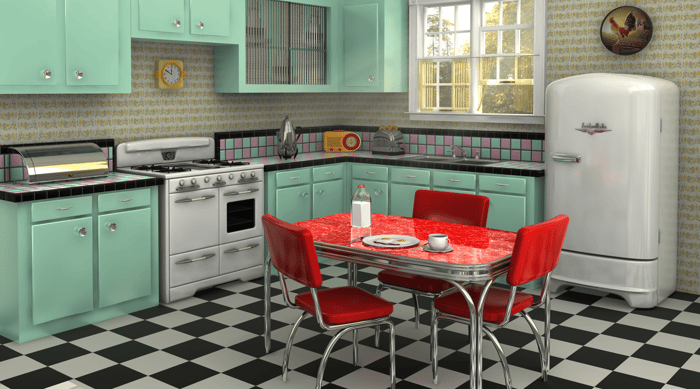 Not everyone wants to paint the cabinets in the kitchen a bright colour, but it's still a possibility. If you'd like something that's 1950s-inspired without being too over-the-top, consider installing flat-panelled cabinets in a blonde wood colour or neutral paint scheme. You can introduce some colour to the tile backsplash. Something that has an oval-shaped or boomerang design will give a head nod to the era without looking out-of-place in today's world.
Bathrooms
A popular trend for '50s bathrooms was to have the toilet, sink, and bathtub made of ceramic that was usually pink, but sometimes pale blue, yellow, or seafoam green. These things may have been all the rage then, but they might be a little cringe-worthy now.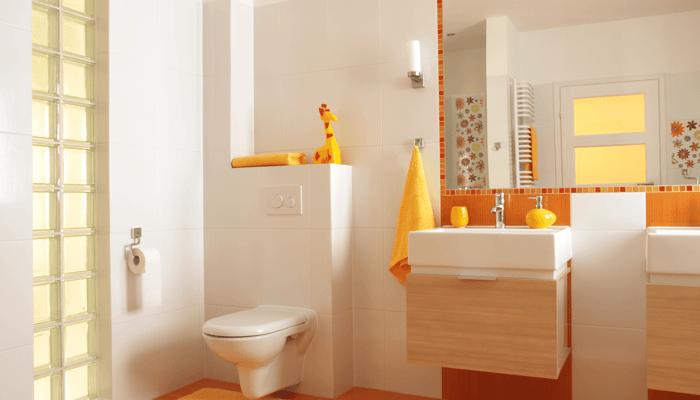 Think you might want to copy the look? You could tone it down by having just a bit of colour in the room rather than letting it overpower the space. For instance, instead of having pink tiles cover the entire wall, you might do a single stripe of pink tiles next to a more neutral colour. Another good alternative is to hang '50s-themed pictures - maybe movie stars or muscle cars - on the walls in the bathroom.
Living Rooms
Living rooms in the 1950s were designed for, well, living. While it was certainly becoming more common to have the seating set up so that everyone could have a good look at the new television, you'd also see the furniture arranged to encourage conversation. There may have even been some space for a game table for the family to play together. Furniture style then was tighter, with sleek lines. For instance, sofas didn't usually have plush cushions that you'd really sink into. There are also a lot of chair styles that the decade is famous for, such as the Eames lounge chair, a butterfly chair, or a half-sphere chair.
Today, you might copy the look by choosing furniture that has exposed legs, a key style point from this decade, and be sure to place furniture so there are opportunities for conversation. For instance, you might have two chairs sitting opposite the sofa, or you could set up a separate conversational area. The keyword to use for '50s-style furniture is "mid-century modern", but you might need to go to specialized stores or websites to find the things you want.
Bedrooms
TV shows at the time might have shown couples sleeping in separate beds, but the truth is that most couples shared a bed. The headboard and footboard were usually somewhat understated, and it was pretty common to have a tufted headboard that used a velvet or satin fabric. There probably would have been a nightstand at either side of the bed, and sometimes reading lamps were attached to the wall. Often, the lady of the house would have a makeup table in the bedroom.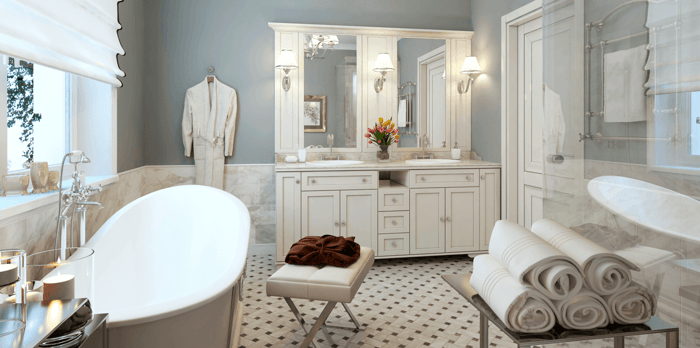 In a room like the bedroom, it's probably best to have hints of the 1950s in the decor rather than go overboard in selecting matching bed linens and curtains - which you'd often see back then. Builders can attach lights to the walls if you want, and many modern bedrooms do have space for a makeup table.
The 1950s had some great ideas when it came to home decor, and there's no reason why you shouldn't incorporate those ideas into your home, especially if you really love the look. Start by narrowing down some of the design features you really like, then talk to a New Home Sales Consultant about making design selections that would fit the '50s look.