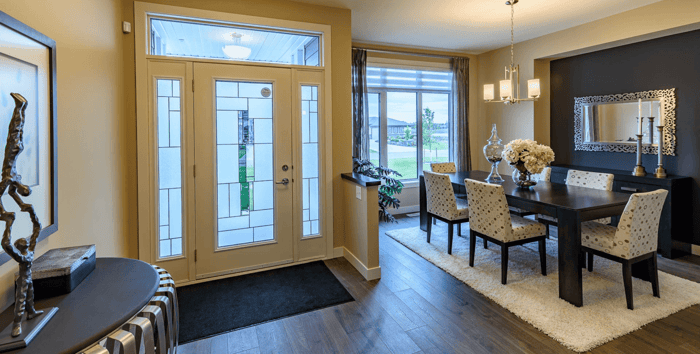 Only forty years ago, flooring in a home was limited to the type of product available. Hardwood was something you generally saw in much older homes, and linoleum was a newer product. Carpet was seemingly everywhere...including bathrooms.
Today, there is an abundance of choice when it comes to the type of flooring you use in your home.
Flooring products are evolving to meet the needs of today's families, all while maintaining and improving the quality, look, and finish of each style. And because there is so much choice now, you can ultimately choose the right flooring type and style for each room in your home.
Longevity in the Kitchen
The kitchen can have a few different options depending on your taste and your needs. Most commonly the kitchen contains the same flooring throughout the rest of the main floor, often being hardwood, sometimes laminate, or vinyl plank (we'll go into more detail about this option later in the post).
Hardwood looks spectacular, but as a kitchen feature, it's not the most ideal product to use. Real wood and moisture do not get along, so if you spill on hardwood you need to clean it up quickly and thoroughly to ensure minimum damage.
Laminate is a fantastic alternative to use in your kitchen design, since it looks much like hardwood but is less expensive and a bit easier to care for. Laminate is more resistant to scratches, damage, and moisture — although not waterproof — which makes it a better, long-lasting choice for the kitchen area.
A Choice of Comfort in Bedrooms
Two obvious choices for the bedrooms will depend on your preferred level of coziness. Most commonly, carpet is used in the bedrooms to absorb sound and insulate temperature. It feels better to land on when you get out of bed, and is typically easy to keep clean with a weekly vacuum.
Alternatively, some homeowners prefer hardwood, laminate, or vinyl plank in the bedrooms and to lay area rugs instead. Wood flooring in bedrooms tends to transfer noise more often to the main floor, but for some homeowners, this has its charm.
Low-Maintenance Bathrooms
Depending on your budget, the ideal choices for bathroom flooring is either tile or linoleum. Tile is great since it can be cleaned of water spillage very easily, but keep in mind that the grout in between is porous and can withhold dirt. Tile comes in a huge variety of shapes, colours, and styles now, including tile that looks like hardwood.
Linoleum is an incredibly cost effective and durable product ideal for bathrooms, giving the bathroom design a custom look. This product is a far cry from the pebbled texture and repetitive patterns from decades past and now offers beautiful styles and textures that look like other higher-end product such as slate, bamboo, or even other kinds of tile. Linoleum will resist water and scratches, and is extremely easy to keep clean.
Functional Foyers
The entrance to your home—especially in Canada—can be the messiest area in the house. Winter brings in snow and moisture, and summer brings in sand and dirt. The flooring in this space takes a real beating, so it is common to lay tile or vinyl plank in this area to make it easier to wipe up and keep clean. Hardwood or laminate in a foyer can work if you keep proper mats down and clean them regularly, but keep in mind that moisture will wick into the wood and likely cause warpage over time.
Alternative Flooring Types
Vinyl Plank
By now you've likely heard about a product called vinyl plank flooring. This newer product is a hybrid with the look of hardwood (including texture), the ease of installation and repair of laminate, and the durability of linoleum.
This is a great product to install throughout your main floor as it works in all fashions of usage—it will withstand the abuse of your foyer floor, the moisture and wear of your kitchen, but still offer a warm, upscale look for your great room.
Engineered vs. True Hardwood
With hardwood, there are two different types you can choose from depending on how much you want to spend. True hardwood planks are 100% solid wood. These planks can be sanded down and refinished if they become damaged, and the lifetime of a solid wood plank is significantly longer than that of any other wood product.
Engineered hardwood is made up of a plank of plywood with a layer of solid wood on the surface. This means you likely cannot sand these planks to refinish as you may sand down through the solid wood. Engineered hardwood is typically textured as well for a different look and finish.
The flooring you choose for your home can be based both on budget and on your family's usage of each room. Choose a flooring product that will both fit your style but also your lifestyle.
Your flooring is also an investment as it's the part of the home that gets the most use, so you may want to choose products that are durable and need little repair. It's your home and your choice—choose the flooring that makes the best sense for your needs.
Get the details on how designQ can help you make these important home design choices.