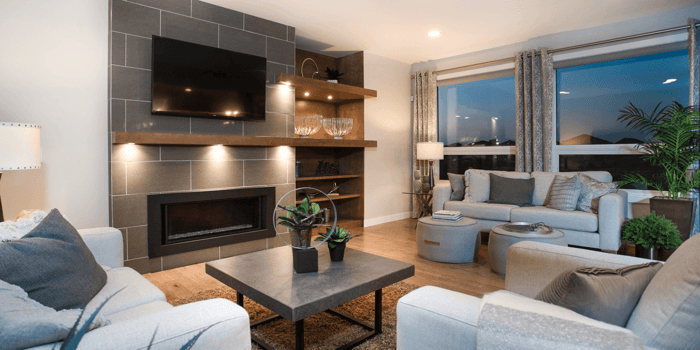 Buying a new home can seem like somewhat of an adventure, especially with all the features you need to keep in mind. So what do you envision in your new home?
When you think of a new home, you probably picture a great room, spacious kitchen, bedrooms, laundry room, bathrooms and guest room.
But it can be so much more!
Click the title to jump straight to the feature list you want to learn more about:
Read on to learn about fabulous features you can incorporate into your new home! We're going to start with the heart of a home - the kitchen.
1. A Captivating Kitchen
Nothing makes a home feel like your personal palace quite like a dream kitchen. Maybe you've always wanted a large island for serving your best hors d'oeuvres, or for gathering the whole family together to make perogies or Christmas cookies.
Whatever your dream kitchen entails, there are sure to be items you want to consider when building your new home.
Start With Your Cabinetry
Cabinets really set the tone of the look you want in your kitchen. The rest of the design depends on your selection of wood, finish, colour, and style. There are literally dozens of choices available to you; however, it doesn't need to be overwhelming. By making these selections one at a time, you'll quickly see just how beautiful your kitchen will be when it comes together.
Decide first on your cabinet colour. Do you prefer natural wood or a painted colour? If you choose wood, usually you select between oak, maple, cherry, and alder in a variety of stain colours. Melamine, thermofoil, and acrylic are all different types of materials used for cabinets as well, giving a different look than wood. You can experiment too; a modern look is to have your island a different colour from your main cabinets.
Your cabinet style also dictates how everything looks in your space. If you prefer modern, you can choose to go with a sleek, simple cabinet style with no decoration or embellishment. If your style is more along the path of traditional or Victorian, you could choose a style with more character in trim work and ornate features, perhaps extended to the ceiling with a set of glass cabinet inserts on the uppers.
The Details Matter
Match the style of your drawers to your cabinets for added detail to make the space look more finished. Additionally, your hardware should make a statement, no matter what style you prefer. Cabinet hardware is often considered the "jewellery" for cabinets. Consider black iron pulls for a traditional look or sleek, metal hardware for a more modern finish.
The type of faucets and fixtures you choose will add to the overall style you're looking to achieve. Of course, the fancier you get the more expensive the pieces, but faucets and fixtures are almost works of art in today's new homes! Our consultants in the DesignQ centre will help you find the perfect fit to finish the look of your new kitchen.
Light It Up
Lighting makes a statement, just as much as the faucets in your kitchen. Today, lighting can be a focal point or a strong statement piece that enhances the overall look of a room, in this case, your kitchen. The type of fixtures you choose for the space should reflect the style and design you started with your cabinets and other details. Consider the material your lighting is made of, the colour, and how the light itself will play in the space.
Next, think about the placement of your light fixtures. Take into account the functionality, ambience, and how you want to highlight certain other elements of your kitchen.
For example, if your kitchen has a centre island, hanging pendant lights above it adds a glitzy touch. Potlights work well in areas that may be under-lit, such as under shelving and above countertops, for visibility purposes. For more artistic touches, under-cabinet lighting that will highlight a backsplash is a great way to show off your design choices.
Pick the Perfect Countertops
You certainly can't forget about the countertops! The surface you both work on and admire should be something you truly enjoy. Your counters should be a reflection of both your style and the function of your kitchen. Although laminate countertops are great quality. and used to be the go-to for kitchens, there are other options with major appeal available.
If you bake and cook a lot on your counters, you should consider installing quartz. Quartz is a man-made product, non-porous and just as beautiful as granite. Non-porous means it will not retain bacteria nearly as much as granite. Cooking on quartz is safer for this reason, but it's also durable – if you tend to spill and make a lot of messes, it's less likely to soak in and stain.
That being said, granite is not something to shy away from! Granite is a natural product, unique from one slab to the next. It can come with many different spectacular colours, designs, and naturally occurring features that make your kitchen look out of this world.
Keep in mind when selecting your granite, that when you see a small sample, it may not fully match the slab to be installed in your home. Since granite is 100% natural, mother nature dictates what it looks like and no two slabs are identical.
Backsplashes Aren't an Afterthought
You want to pick out a backsplash that will complement the colour and pattern of your countertop to create an upscale look. A backsplash is a popular kitchen feature, not only for the stylish touch it adds but also for its convenience. A backsplash will protect your wall beneath by sealing out moisture and cleaning is a breeze – a quick wipe down is all it takes!
While natural stone tile can be beautiful, it is porous and often more expensive. Low-maintenance options would be porcelain, glass, ceramic, or even metal tile because these materials are non-porous, meaning they're more resistant to scratches and stains.
A backsplash is a worthwhile investment for both its aesthetic appeal and ability to retain value over the years. And the finishing touch it adds to your kitchen really makes it worthwhile.
Space and Function Should Work Together
The kitchen is the room you'll likely spend the most time in from day to day besides the bedroom, so you want to ensure the layout is something you can work with. When looking at a floor plan, imagine yourself in that kitchen cooking or baking.
Do the locations of the appliances work for you? What about outlets for all the appliances (big or small)?
How about the distance from one space to the next, or the size of the pantry?
Do you cook with someone else in the space and need to ensure there is enough room for both of you?
Do the 'zones' of the kitchen (washing, prepping, cooking) work for you?
How much storage do you need? Would you prefer drawers or cabinets?
Do a lot of entertaining? Maybe two ovens is a must-have for your kitchen.
Cook a lot of fragrant dishes? - Then a separate spice kitchen would be a good fit.
These are things you may regret later if not considered now.
To ensure your kitchen is a functional space, make wise choices about the features you include. If you have a large or busy family, storage is likely a priority for you, so look for floor plans that include walk-through pantries where you can store non-perishables and sparsely used appliances. Talk to your builder about deep pots and pans drawers, which are optimally designed to fit those bulky items.
Consider Your Seating
Kitchen islands are perfect because of the socializing they encourage while you're cooking. If your kitchen also includes an eating nook, this makes it easy to invite guests to hang out in the same space. This way, you won't feel like you're neglecting your guests while preparing food.
Gatherings that involve kids are also made more comfortable with an eating nook because younger kids are usually more comfortable in this setting.
There are many kitchen features to think about when building a new home. Consider everything ahead of time, and ask your builder about the standard new home features, and what would be considered upgrades. This will give you a clear idea of how to get exactly the personalized space you've always wanted, and the space you'll need.
2. A Functional Foyer
The foyer is the first thing visitors see when they walk into your brand-new home and the last thing they see before they leave. Naturally, you want the space to be warm and inviting. Fortunately, your foyer can be both visually appealing and have practical features.
Take a look at our list of ideas you can use to create a fabulous and functional foyer.
A Built-In Bench
A built-in bench in your foyer will serve many purposes. For one, your kids or guests can sit down to take off their wet shoes or boots. It's also a convenient place for your kids to put their backpacks and school books. This makes it easy for your kids to grab them while heading out the door in the morning. You may want to put your purse or work bag on the bench, so you know just where it is when it's time to head out.
Ideally, you want this to be a storage bench too! Talk to your builder about the option for storage so miscellaneous items can be hidden away, keeping the entryway nice and tidy.
Catch the Eye With an Attractive Table
If you have the room, consider putting a small table in your foyer. It adds to the décor and serves as a handy place to put car keys, purses, wallets and other small items.
You can dress the table up by hanging a mirror with an antique frame above it or by setting out some flowers in an attractive vase - it's a perfect match of decor and functionality!
Line Up the Cubbies
A line of built-in cubbies in your foyer would be an excellent feature for a family. This helps immensely for organizing your kids' school bags, coats, jackets, hats and umbrellas. Each child could have his or her own cubby for storing all of these items.
But they don't have to be just for the kids. Mom and dad can have their own too! You could even leave a couple empty for the purses and bags of guests who come to visit.
Cozy Closet Space
Of course, if you don't want the kids leaving their jackets, keys, school supplies and shoes in plain view, a sizeable entryway closet is important. This is also a must-have for guests to hang up their coats and, with proper organization, will provide ample seasonal storage space.
If you prefer to keep your closet for family storage, a line of coat hooks built into your foyer can serve as a place for all the jackets, including guests. Use the coat hooks for purses, backpacks, reusable grocery bags, umbrellas, hats and more. Seeing a set of colourful jackets hung in a row adds to the neat, welcoming look of your home's foyer.
Don't forget about your pets! Designate one hook for your dog's leash or harness. That way, you always know where it is when it's time for a walk.
Decorative Baskets
Stylish baskets can contribute to the whole feel of the décor in your foyer. Plus, they are available in many sizes, so they can store a variety of items! You can put them along one wall of your foyer or on the lower shelf of your entryway table.
Items to store in baskets:
Books and magazines
Extra scarves, hats and gloves
Dog or cat toys
etc.
The foyer serves as the first impression visitors have of your home. So why not give it some features that are both attractive and practical? These ideas are sure to get you thinking about what you'd like to have in the foyer of your brand-new luxury home.
3. A Gorgeous Great Room
It's not usually the first room people think about, but let's not discount the power of the great room.
Normally adjacent to the kitchen, it can enhance the look of your home and continue the overall sophisticated look for a more refined home.
Here are some spectacular features you can add to your great room to make it sing. Keep in mind every home is different so it's best to discuss with your new home sales agent when looking at plans.
The Fifth Wall
When designing a room, many focus on the four walls around them, forgetting about the equally as important fifth wall – the ceiling!
To bring more "wow" into your great room design, consider the effect your ceiling could have. Maybe it's height that will make all the difference – you could raise your ceiling to 9 feet or even so far as 18 feet above you, creating a grandiose look.
Maybe, though, it's the design of the ceiling itself that will impress. Consider tray ceilings – this ceiling treatment is a simple, yet classy finish you can add to your great room. Tray ceilings are characterized by the centre section of the ceiling being recessed higher than the perimeter areas. This creates the look of an inverted tray, adding interest and depth to your space.
Unobstructed Views
Because the open-concept layout is so popular in modern homes, you'll likely have views of other areas in your home from your great room. What you want to do is to ensure that the areas of your home that fall into your sightline from the great room will complement the overall look you're going for.
For example, many floor plan layouts place the stairwell leading upstairs just off the great room. For this reason, the stairwell should be considered as part of your great room design. Your choice of handrails, whether it be wrought iron spindles or open with clear glass inserts, should blend with the features and finishes of your great room. By choosing the right handrails, you won't resent your view of the stairwell but, instead, appreciate it.
This also means you want the colours in the great room to complement the kitchen and/or eating nook. It doesn't have to be matchy-matchy, but you do want it to work together.
Archways & Pillars
Depending on the layout of your great room, there could be an opportunity to add stunning archways and pillars to visually define your great room space from your kitchen or dining areas.
A framed archway or decorative pillars at the corners of the room won't make the room feel smaller, but it will add a level of awe to the overall look. This could be as simple as a dropped beam and trimmed corners, or a curved archway with full ornate columns, depending on your preferred style.
Fireplace and Entertainment Unit
The fireplace in your home is a willing participant in everything design related. It can be trimmed neatly with a traditional style mantle and tile surround, or you can make a statement with a floor-to-ceiling stone or tile finish.
Alternatively, if you want your fireplace to stand out on its own as a focal piece, you can choose to have a painted background in an accent colour.
If you're looking for more functionality, you will appreciate the storage and/or display space you get with a full entertainment unit around your fireplace. This can be done with floating shelves or built-in shelving, depending on your preference.
Another popular and practical option is to have the unit built into a side wall cantilever, fitting it into the room perfectly while leaving more open space in the room itself.
Flooring Framework
Whether you have hardwood throughout your main floor or a combination of tile and hardwood, think about how you can uniquely lay out your flooring in your great room to visually shape the space.
Perhaps you could have the perimeter laid out in a standard straight pattern, and 45-degree angle the interior of the room. Maybe a herringbone pattern would be of interest? Flooring itself can become part of the artwork within your home's design, and you may be surprised at the amount of elegance it can bring into the space.
If you're not exactly sure how to go about creating a more unique design like this, get the details on how designQ can help you. This is one of the many advantages of building new!
Lamps and Lighting
Some great rooms are designed to have limited to no lighting installed at all. It's meant to be a room in which you set the mood, and often times that means using lamps and floor lights to create the light within the room.
However, a very popular choice many people select is to add potlights or even chandeliers. There are plenty of options available depending on what type of control you'd like to have in your great room's lighting and ambience. Potlights with a dimmer switch are a fantastic option allowing you to select the exact amount of light you wish.
A great room does not have to be a plain, empty box of a space. Treat it like a blank canvas, and you can add all sorts of elegant and stylish touches to create just the right amount of oo-la-la.
4. Beautiful Bedrooms
When most people think of the perfect bedroom, they think about the decorative elements - the bed style and bedding, the colours on the walls, and the artwork that's carefully chosen to create a relaxing environment.
As home builders, we believe a great bedroom starts with the floor plan. If you're building your home, you're in a unique position to create the best bedroom for you. These bedroom features should set you on the right path.
Keep It Spacious
This might not seem like a feature per se, but it's definitely something you need to consider. You'll need to make sure your bedroom has enough space for the furniture you have (or plan to have).
At a bare minimum, the master bedroom should have room for a nightstand on either side of the bed. This ensures no one has to climb over the bed or shimmy in a small space just to get to their spot. If you love your king-size bed, you need a room that will comfortably fit said bed.
Most people also want the space to have some additional furniture, such as dressers, a bench at the foot of the bed, or a table and chair for a sitting area. You need to factor in these pieces when you choose a floor plan so your room doesn't feel too cramped.
Additional Areas
In the past, the master bedroom didn't always have luxuries like an ensuite or a walk-in closet, but these are now necessities for many people!
When it comes to the walk-in closet, make sure you have both shelving and rods, to help maximize the space. If you're a shoe fan, talk to your builder about some special shelving for your collection.
The ensuite should fit your needs. Some people appreciate having a large ensuite with his-and-hers sinks, others want a separate shower and soaking tub. Some like to stick to the basics, preferring to save the square footage for other things. Sterling's homes have a variety of options for you, but we'll get into more details about ensuites a little later on.
Plug It In
Since you'll want to charge your electronic devices overnight, it's important to have enough outlets in the bedroom! If you're the type to use your phone as your alarm clock, make sure there are outlets near the bed. Think about where you'll place the bed in your room, and check that there are outlets on both sides.
Not just for charging, many people also want these for additional lighting options. It's nice to have a soft lamp beside the bed. Another idea that many families are utilizing is to have their builder put USB outlets in these locations to make charging easier.
Light Matters
You'll probably want layered lighting in the room. An overhead light - perhaps one with a fan to cool you down in the summer - is good for getting dressed, but it's too bright for just before bed.
As mentioned above, you can get that second layer of light with lamps on the nightstand. If you like to keep surfaces clear, you can choose to have these lights mounted on the wall instead. Talk to your builder if this is something you'd like.
Open the Windows
Look for bedrooms that have large windows to let in a lot of natural light. This is a great way to gently wake up in the mornings, though you can easily hang some blackout curtains if you want to sleep in.
Think about the view from the windows once the home is built. That's often something that's a part of the lot selection process. Some people enjoy lots of windows while others don't. Keep in mind the size and placement of windows could affect the layout of where furniture could fit nicely without blocking a window.
Another thing to consider when it comes to your windows is style. Do you want floor-to-ceiling windows or would you prefer something slightly more understated? You will need to take into account what you'd like to cover those windows as well!
Soothing Colour Scheme
Your bedroom should be a place of relaxation, and people often achieve this by choosing a relaxing colour scheme. In general, you'll want to avoid bright colours, which can be too stimulating, but this doesn't mean that you have to stick with something boring.
For instance, while many people favour pastels for the bedroom, you can make a bolder choice with something like a navy blue or a deep burgundy colour. Another idea is to go with a feature wall. A fun or bold printed wallpaper will make a big statement but doesn't have to take over your bedroom.
When you choose to build your home with Sterling, you get to enjoy help with design choices from a professional decorator at our DesignQ design centre. It's a great benefit.
You'll spend a large portion of your time in your new bedroom, so it's wise to take care when making design choices.
5. An Elegant Ensuite
Aside from your luxurious master bedroom, the ensuite is the ultimate getaway within your own home. And we did promise we were going to talk more about this space!
A far cry from the tiny bathrooms they once were (and even non-existent just 40 years ago), ensuite spaces today are an amalgamation of function and style. Like many people, a home without a beautiful ensuite may be a deal-breaker for you.
This is because your ensuite should be more than simply a place to get ready each morning; it should be a retreat where you relax and enjoy some quiet time.
Supersize Your Shower
A shower, fully tiled top-to-bottom, with glass doors is a luxurious feature in any ensuite. Most homeowners now want to make sure there's room for at least two people in the shower, with room to spare.
Be sure to incorporate a small cubby (or two!) in your shower to place shampoo and other products you'll need.
Other ideas for your shower space include:
Seating: enjoy the water falling over you as you relax in a comfortable seat
Thermostatic mixer: keeps your water temperature consistent, no matter how many times someone flushes a toilet in the house
Multi-showerhead system: an ultimate relaxation feature
Rainfall showerhead: still a popular option for many homeowners
Consider a Feature Wall
Like most rooms in your home that have a feature wall, your ensuite can as well! Take it one step further than simply paint and install tile, floor-to-ceiling on one wall to act as a focal point in your design.
This wall could be behind a pedestal sink with a mirror and lighting installed overtop, or if your ensuite is large enough to accommodate, choose a wall that would otherwise seem empty. Select a unique pattern such as honeycomb, mosaic, or even bubbles to create a fantastic look.
Soaker Tub = Luxurious
Similar to the clawfoot tubs of 100 years ago, a freestanding soaker tub adds a heightened level of luxury to your ensuite. Now in a variety of more modern styles, you can find a freestanding tub to match any design preference.
Going with a tub style like this means it can be accented with a chandelier, stunning faucet and hardware, and a chic small table to hold a book, decor, or other useful items during a relaxing soak.
If you want to take this feature one step further, pull it out a bit further from the wall and install a shorter, decorative tile wall behind it to add an artistic (and useful) element to your ensuite.
Vanity Fit for Royalty
Not only can you customize the type of cabinetry that hosts your single or dual sinks, but you can also have a matching tower built. These towers are ideal for storing linens, makeup, a hairdryer, and other practical items.
If your ensuite is large enough, carry this cabinet style across the room to add a tall wardrobe to hang your robe, slippers, and nightwear.
An added benefit of this feature is your ensuite bathroom remains clean and uncluttered, as everything now has a place to be put away.
Play With Colour and Texture
The design elements of your ensuite play a major role in setting the ambience of the space. Consider using dark grey and charcoal colours on your walls and your tile, while injecting natural wood tones and textures into the cabinetry, shelving, and lighting elements. Warm up the space by adding live plants in wicker or wooden planters.
If you prefer a brighter ensuite space, use light greys and white in the tile and wall colours, while using a lighter wood tone or light blue painted cabinetry. Use black light fixtures and hardware to contrast the brightness of the space. Introduce light linens or lace to add to the softness of this design.
By selecting granite countertops in your ensuite, you'll elevate the luxurious feel of the space tenfold. Quartz is a superb choice as well and is more water-resistant than granite.
Expand the Ensuite
Maybe you want just a little more. If you're looking for a truly magnificent ensuite, check out our Catalina model. This gives you a massive ensuite, with the soaker tub and full glass shower in the middle, two vanity areas and an extensive walk-in U-shaped closet - it's amazing. This ensuite checks all the boxes!
You should always consider your lifestyle. Your ensuite can be the ultimate spa-like getaway where you alleviate the day's stresses, relax, and unwind. When you include the right features, colours, and textures in this space, you can live in luxury, style, and complete bliss. And you might just be the envy of all of your friends.
While your ensuite may be the lavatory you're most enthusiastic about, don't forget about the other bathrooms in your home. Draw inspiration from these bathroom design trends for a custom look!
6. Luxury and Extravagance
What do you envision in your new home?
When you think of a new home, you probably picture a great room, spacious kitchen, bedrooms, laundry room, bathrooms and guest room. But have you thought about adding an extra element of extravagance to your new home?
Learn about some features in our new home plans that add a lot of lavishness to standard floor plans. There are plenty of other things that can make a big difference in how luxurious your home both looks and feels.
A Covered Deck
Go with the optional covered deck and you'll be the envy of the neighbourhood (take a look at our Bonneville model for this option!). A covered deck is an excellent feature if you love to sit in comfort while enjoying the beauty of your surroundings. Partial screening in this area can help eliminate problems with mosquitoes or unexpected rain showers.
You may want your covered deck to serve as a pleasant place to read, do homework, or finish projects brought home from work. You can enjoy the warm or cool breeze while visiting with family and friends. A covered deck can be the perfect place to serve a meal on a lovely summer evening.
The back patio or deck is something you can easily incorporate into the build of your home. While you'll have to buy the furniture separately, you can start by making sure you have enough space for the number of people you'll regularly have out there.
Take it Out Back
When people think about the luxury of a home, they often focus on the interior, but you can also find a lot of places outside to add a unique touch.
Outdoor kitchens are one of the most luxurious additions people are choosing to include with their new home. These spaces go beyond the patio and grill. The outdoor kitchen could include things like a separate prep and bar area where people can sit to chat with the cook.
Additionally, think about including some fun things in the backyard, like a pool, a hot tub, a fire pit, or a kids' play structure. Anything you can do to help your family enjoy the backyard is going to be worth it.
A Four-Season Sunroom
Did you know you can add the extravagant feature of a four-season sunroom to the majority of our home plans? Depending on your lot size, you could enjoy the outdoors all year-round while staying inside. Decorate this unique room with comfortable furniture and appealing artwork to make it one of the most popular spots in your home.
Your four-season sunroom could be a fun place for entertaining friends or weekly movie nights with the family.
A Useful Den
Do you dream of reading or working on important projects in a den? If so, you can opt for a den in a floor plan like our Brookview model. A den can double as a home office or a hobby space!
You may want to use your den for housing your collection of books. Put some shelves on one wall and fill them with all of your hardcover favourites. Storing books in your den keeps them out of the hands of your children and allows you to find the title you want when you want it.
Alternatively, you could set up a great home office in here, with a fantastic desk, to help get those projects completed.
A Lovely Loft
A loft is an extravagance that can also fulfil a practical purpose. A loft can be an open space for the family, fit with comfy chairs as a place to get lost in a good book or movie.
This cozy room looks just as good with modern décor as it does with old-fashioned décor. It can be the surprise highlight on every tour you give of your home!
Bring On the Bonus Room
Many of Sterling's homes feature extra rooms that we call a bonus or flex room. While you can use these rooms for basic functions like a home office, a playroom, or a formal dining room, others are turning them into spaces that suit their unique needs.
For instance, a bonus room could be turned into a home gym. You could have the builder install workout-friendly flooring or include a door to give yourself some privacy.
You could turn it into a playroom for the kids. All of their toys and games in one room, able to be hidden from view when needed.
Delicious Dining
If you love to entertain your friends and family, then a formal dining room is a must-have. Our Hamilton floor plan has a formal dining room designed for entertaining. Enjoy a delicious meal in a spacious dining room bathed in natural light.
Your formal dining room could be dual-purpose. Use it as a place to play cards and board games with family members. A simple tablecloth on the table and some bowls of pretzels, chips, dip and other comfort food instantly takes the formal out of the dining room for an entertaining family gathering.
Oversized dining areas also include the flexibility you'll want in selecting tables. A table with inserts always makes it easy to accommodate extra people. Another advantage of larger dining areas is it's easier to serve the food and drinks buffet-style.
Beautiful Basements
A lower level complete with a recreation room is ideal if you want a place for young kids or teenagers to hang out. A pool table, television, and a gathering of comfortable furniture all make up a very appealing rec room.
Other ideas for your lower level:
pinball machine
ping-pong table
home movie theatre
craft area
sewing area
video gaming room
Homeowners who love to entertain love the idea of having a built-in bar area put into their basement. This has a small kitchen setup with a sink, counters and cabinetry, and a refrigerator. You could even have a small sit-up area with bar stools!
Additional options for your basement includes a bedroom you could use as a guest room or perhaps a room for an older child. To go along with that, you'll want to have another bathroom, as it's both convenient and private. And in case you were wondering, lower levels are optional to complete on every Sterling home plan.
Don't miss out on any opportunities to add some luxury to your new home. Sometimes just one extra feature or room can make a big difference in the feel of your home – treat yourself!
7. Furry Family Members
Yes, you can plan and choose features for your new home that also accommodate your furry friends! But there's more to a pet-friendly home than accident-resistant flooring. It's easier than ever to make your pets feel like treasured members of your family while reducing the effort you spend keeping your home tidy.
Smart Flooring Choices
Flooring is a good place to start when building a new home. The last thing you want is for the beautiful hardwood you fell in love with to get scratched, gouged, and warped by your pets.
If you're set on wood flooring, consider vinyl plank flooring – you'll get the look of wood with the durability of linoleum. Ceramic tile is another solution that resists damage from claws and even the occasional accident.
If you want to go with natural stone flooring, it's a good idea to avoid marble. Pet urine is highly acidic and can cause etching (a form of permanent damage to the stone; creates a hazy look in marble, even if it's cleaned up quickly). Good stone choices for pet-friendly flooring include granite, slate, and sandstone.
Washing Station
When designing your back entryway or mudroom, give some thought to your pets. A built-in doggy washing station makes it easy and painless to get your pet clean before he comes inside from a day of fun. After all, using the outdoor hose or carrying your pet to the bathtub gets old fast – and it's likely to make an even bigger mess.
Washing stations are easy to incorporate into many spaces and don't take up much room. Even installing a long shower nozzle on your back patio can create an impromptu bathing station.
If you want a more dedicated solution, you can install a simple tiled built-in shower in the mudroom. There are also solutions that can be used for humans and pets. Have a drain system built into the mudroom with a large grate. Add a long shower nozzle and you have a space to clean off boots, feet, and paws.
Built-in Feeding Station
One of the simplest but most life-changing features you can add is a built-in feeding station for your pets. This solution means you can stop tripping over the water dish or kicking kibble across the kitchen floor.
Create a dedicated feeding station in your kitchen cabinets. Simply open the lowest pull-out drawer to give your pets access to their food. Another solution is installing the feeding station on a low shelf in an island nook or even a drawer under a bench in the kitchen.
Window Sills
Cats and dogs both enjoy spending long hours looking out the window to monitor the neighbourhood. An easy way to keep your pets happy indoors is opting for extra deep window sills or built-in window seats. These options give your pets hours of entertainment and comfort. Keep this in mind when choosing your window coverings as well!
In and Out
Pet doors can be more than merely a flap in your door that allows your conditioned air to escape. Options like the Freedom Pet Pass provide an airtight seal without preventing your pet from coming and going. The airtight seal also keeps out pests like mice that would otherwise view a doggy door as a welcome sign.
You can even opt for automated pet doors that are activated by electronic collars. With this option, you can control when your dog has free access to the outdoors, keep an indoor cat or sick pet from leaving the house without supervision, and prevent pests from using the door.
Outside Play
Speaking of the outdoors... there are many solutions to give your dog a fun space without giving up much of the backyard. For example, you may not want your dog to have free run of your backyard, especially if you have a pool or delicate landscaping. One solution is a dog run.
Don't assume all dog runs need to look like steel prisons! Custom fencing can be installed to confine pets to a designated area. Another alternative is a trolley tie-out for dogs, [which is strung between posts or trees and gives your pets more space to run without obstructions or potentially dangerous rope tangles.
You can even add artificial turf like K9 Grass, which is designed for dogs, to your dog run. It's easier to keep clean than real grass and keeps your yard smelling and looking great.
Take things a step further with a pet waste management system built into your lawn! You might get yourself a dog waste station just like the ones you'd see in parks or along walking trails! Or use an in-ground pet waste system that works a lot like a septic tank. All you need to do is shovel waste into the system and occasionally add an enzyme and water.
There are many features that can be added to your home to enrich your pets' lives, keep your home neat and clean, and make tasks like tidying up easier than ever. When buying or building a new home, it pays to keep your pets in mind for a home you'll both love for many years to come.
8. Keep It Smart and Safe
While we all like to think that "it won't happen to us", the truth is, crime happens everywhere. While we certainly don't need to give into it or let it control our lives, there are many ways (and awesome technology) to make our homes just a little bit safer - and deliver some peace of mind!
Home Security
When homeowners think about how to make their homes more secure, most head straight to the most common option: a security system. This is certainly still the case, and technology has improved to the point where we are able to install hidden cameras throughout our homes, inside and out.
One of the most useful cameras today is installed right into your doorbell so you can see who's at your front door via your smartphone. There are many different kinds of video doorbells, and their services range from simple recording on demand to recording perpetually, letting you know who's at your door at any given time. There are also options that allow you to speak with whoever is at your door.
With the popularity of online purchases today, packages are being left on doorsteps during the day while you're at work, and theft is on the rise. By installing cameras, you can potentially catch the burglar red-handed should this ever happen to you.
Home Automation
As you probably already know, your doorbell isn't the only security feature you can control via smartphone. Now you can turn your lights on or off, open and close your garage door, unlock your door and change the settings on the thermostat.
Other basic products such as motion sensor lights can also be installed outdoors to help deter criminal activity, - and adjusting the lights when you're on vacation will fool people into thinking someone is home.
Smart Locks
Do you remember when we said you could lock and unlock your front door with your phone? Smart locks recognize when you're home and will allow you to grant temporary access of your home to guests. If you aren't home and someone else opens the door, this system will alert you to who entered the home (via unique passcodes), when they leave, and even if they locked the door.
Smart Home Additions
Smart home tech has taken the world by storm, and you're in a unique position to really go all-out with your choices as you build a new home.
Some things you can think about including are:
A smart thermostat
Smart lighting
Smart sprinklers in the yard
Carbon monoxide detector
Additional luxuries like smart appliances or speakers throughout your home could also work well if you can include them in the budget.
As you can see, when it comes to the features you want in your new home, you have so many choices and options! If this feels a little overwhelming, don't worry - we've got you covered. Our design team at DesignQ understand, and are ready to help you with all of your decisions.
Get ready to have all of the luxurious home features you've been dreaming of!
Originally published Sept 28, 2018, updated Nov 27, 2019.