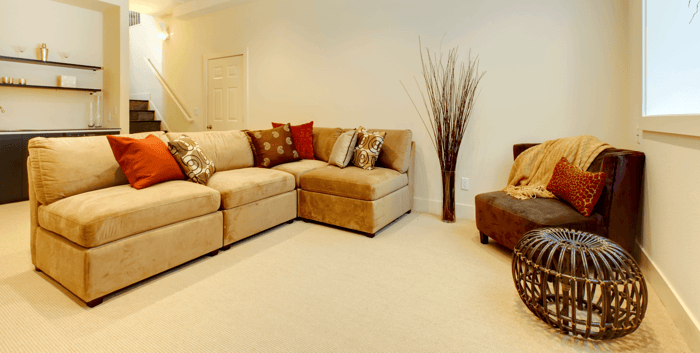 If you read our previous post, then you know all about basement development and how it works. Great! But if you're planning on developing your basement, do you have any ideas about how to design it?
A developed basement can be a necessary floor plan feature if you have a big family. It's an entire additional living space, and you can either extend the upscale design of the rest of your home, or take a creative leap and design something entirely different and bold for your basement living areas.
Having a finished basement can add functionality and value to your home, so you have plenty of incentive to finish it! For these reasons, let us begin to engage you in the basement designing process.
Start With Your Flooring
Basements have a tendency to be a bit chillier than the upper floors. When selecting your basement flooring, look for both warmth and comfort. You may not like carpet all that much, but for a basement, it's the ultimate choice for your flooring as it acts as a heat insulator. It'll be more comfortable on the feet and keep the space feeling nice and cozy. This isn't to say that you can't install other types of flooring in your basement, carpet is just the most popular choice. It's important to pick flooring that works best for your taste and lifestyle.
Carpeting is also cost-effective, but you can also choose a higher-end design if you want to improve your home's appearance. Don't forget, you can choose any number of styles, colours, and textures, that fit your interior design scheme.
Finally, remember to install a nice thick underlay to go beneath, creating that cushy bounce to make your basement feel even more comfortable.
Colour Scheme
Since a basement tends to have smaller windows that are below grade, naturally, there's less light available in this space. When selecting paint colours, carpet, tile, and other colour scheme items, be sure to choose lighter, more vibrant colours to spice up the space. Lighter colours will help a space look larger and brighter and make your basement feel more compatible with the rest of your home.
Speaking of Light...
Be sure to install sufficient lighting in your basement as well. Complement the brighter colour scheme you've selected with some unique and functional lighting in all spaces. Potlights are typically the best solution for your basement since they don't take up any headroom and they can light up just about any space easily. You can even opt for LED bulbs to help you save on your electrical bills.
Eliminate the Posts
One challenge many homeowners face is how to build a functional and open living space downstairs while there are teleposts in the way.
These teleposts, of course, are necessary to the structural integrity of your home.
If you opt for it at the very beginning of your build, you can replace these posts with a steel beam, retaining the structure of your home but opening up the space completely. You'll likely have a bulkhead to contend with, but it's a vast improvement over an invasive post in the middle of the room. Placement and beams are plan dependant so be sure to talk to your Sales Agent about this when selecting your floor plan if you have certain requirements or wishes.
Don't Forget Function
Regardless of what you plan to use your basement for, you probably want it to be functional. All of our floor plans come with suggested basement layouts, which include an additional bathroom, bedroom, and rec room. This gives you the basis for a functional layout to suit any needs, but depending on what you intend to use your basement for, there are some additional features you might want.
If you plan to create a gathering space with comfortable furniture to watch movies, play video games, or other recreational type media activities, consider having storage cabinets or a fireplace/entertainment unit built right in.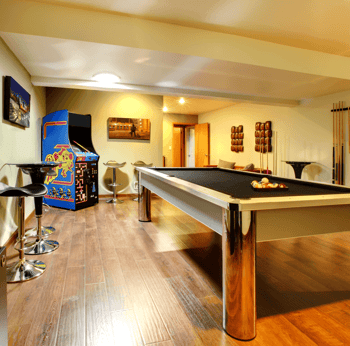 Adding these features in immediately when you build allows you to start utilizing your basement as soon as you move in, rather than after possession. Store your movie collections, video game consoles, or other items easily in the area in which they'll mostly be used.
You can even build in extra shelving for your electronics such as Blu-Ray or DVD players, receivers, sound system, video game consoles, and more. Keep everything neat and organized this way and you won't have to fight with cords entangling, either.
Wet Bar/Mini-Kitchen
Last, but definitely not least, complete your basement with a miniature kitchen or wet bar! Design a small kitchen to be just enough for your needs such as a single cabinet and countertop with mini sink, or go all the way with a full-blown kitchen with sink, refrigerator, wine cooler, and plenty of storage cabinets for glassware and spirits. Keep the family hydrated and full of snacks in this must-have feature in your basement.
Something to note: the City of Winnipeg has strict guidelines on what you can have in a basement secondary suite when it comes to kitchens. If you are looking to have an oven/complete kitchen, you need to make sure you have the correct zoning and permits before you proceed. Your suite will also need to be a legal secondary suite. You can find more information on how to do this on their website.
In Law Suite

With our basement layout options (including a bedroom and bathroom, as mentioned) and the above suggestions, it's very easy to transform your basement into an in-law suite. Especially if you decide to include a kitchen area, you'd have an ideal floor plan for your multi-generational family, one that keeps you close but still allows for privacy. Alternatively, you may choose to finish your basement to resemble an apartment and rent it out to earn a little extra income to help pay off your mortgage faster.
There is so much potential for your basement to be converted into a comfortable and functional living area in your home. With just a few considerations, you can make this third level in your home just as beautiful as the rest, and you won't be able to wait until the next time you can cozy up in your favorite chair.
Photo credits: sectional, basement, pool table