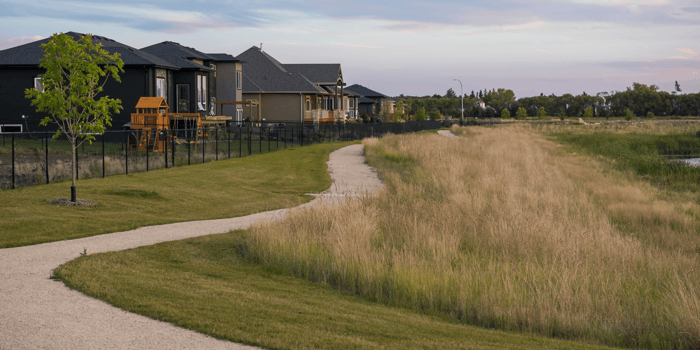 Whether you're new to Winnipeg or have been living here your entire life, it's clear that there are more and more communities that you could choose to build your home in. It takes a lot of time and research to find the right community for your family, but we think that the communities that Sterling builds in have a lot to offer.
Check out the details on some of Winnipeg's best new communities, then come out for a tour.
Bridgwater Trails
Bridgwater Trails is part of the Bridgwater network of communities. It's in the southwest part of Winnipeg, but is located quite close to the city so you'll enjoy an easy commute to work.
You'll be happy to note that the community is close to a variety of necessary amenities, such as Save-On-Foods, Royal Bank, and the Bridgwater Veterinary Clinic. Also nearby is Kenaston Common, which offers you Rona, Costco, Bulk Barn, Indigo, and so much more!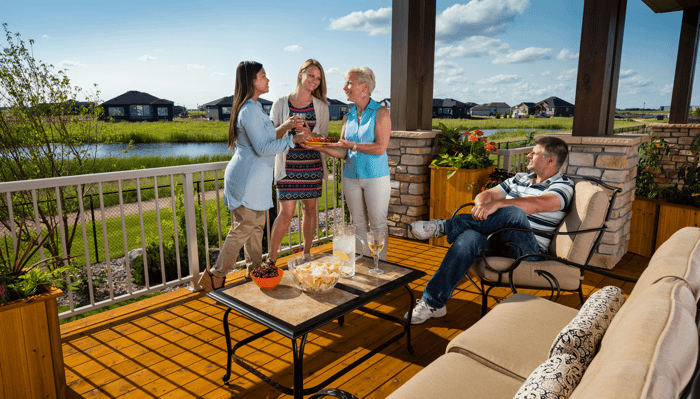 If you're the type of family who likes to eat out, you have a variety of choices! Sushi lovers will love JC Sushi, rated 4.5 stars! Mongo's Grill (4.4 stars) is to the north, which is a great Mongolian grill with a soup and salad bar. We mentioned Kenaston Common, which has Joey's Restaurant and a Moxies Classic Grill as well.
While there isn't a school set right in this community, you do have options nearby! There's South Pointe School to the east, and Henry G. Izatt Middle School and Whyte Ridge Elementary to the north, just to name a few.
We think you'll really like the design of this community. The homes are mostly centred around a large fountain that makes the perfect gathering place, and with over 70 acres of open space, you'll feel like you're living in the countryside even though the community is in the heart of a bustling suburban area. Best of all, with mature forests and eight man-made lakes, there's a good chance that you'll be able to build your home in a spot that has an excellent view. Be sure to mention this to the New Home Sales Consultant if it's important to you.
There are a variety of home options in this community, so stop by our showhome located at 312 Cherrywood Road - the Newcastle Model! Three bedrooms, two-and-a-half bathrooms, a large loft space and more means plenty of space for everyone in your family. There's also a brand-new showhome opening soon at 367 Willow Creek! Our representative in this area, Philip Liang, will be more than happy to help you find the home of your dreams in this area.
Sage Creek
In East Winnipeg, Sage Creek is the community that's closest to the downtown area. It's also conveniently located for shopping and restaurants! The St. Vital Centre is just a 10-minute drive away, however, one of the features of Sage Creek is the Village Centre in the middle of the community. You can easily walk or bike there from your home, and there are a variety of essential stores like Sobey's and Shoppers Drug Mart, as well as a range of restaurants including Subway, McDonalds and Rockwood Urban Grill.
Sage Creek is an ideal location for families who want to spend some time together outside. Residents have access to 61 acres of parkland and nature reserves, including nine kilometres of walking trails. You'll also be living in the wetlands, where you'll be surrounded by all sorts of native grasses and plants. Biking trails wind throughout the community, along with lovely lakes, parks, and green spaces for playing.
Additionally, those interested in Sage Creek can come take a look at our showhome at 52 West Plains. It's based on the Westminster model, a huge 2,504 square foot home with four bedrooms - perfect for growing families or those with older relatives looking for a multi-generational living solution. Contact Jack Hood, the New Home Sales Consultant for Sage Creek, to arrange a visit, or to see our new upcoming show home at 7 Hummingbird Cove.
Oak Bluff West
Just outside of the city perimeter, Oak Bluff West has just about everything that you could want in a community. There are beautiful views of the open prairie, a two-acre park and playground, and a limestone trail system to help you explore.
Just like Sage Creek, Oak Bluff West is also close to natural wetlands, which help to maintain the balanced ecosystem of this community and enhance its natural beauty.
Living in the natural surroundings of Oak Bluff West doesn't mean you'll have to sacrifice all the modern conveniences, however. Oak Bluff West is part of the Macdonald-Headingley Recreation District, and you'll have access to the Oak Bluff Recreation Club. You'll also be close to a host of restaurants such as Amigo Foods, Humpty's, and Tim Hortons. If you work in the city or just want to go there for some entertainment, it's easy to hop on the highway and drive there.
Encourage your kids to get outside and play in the larger backyard that you're likely to find in Oak Bluff West. If you act quickly, you may even be able to build your home on a pie-shaped lot. This community is also exempt from City of Winnipeg growth fees, so with the lower taxes in this community, you'll find that there's more room in your budget for all the little extras you want in your home.
The showhome here can found at 69 Casselman Crescent. This is a 1,706 square foot bungalow based on the Ashton model, ideal for families who prefer an open-concept layout. Contact Don McDonald to help you find your perfect home in Oak Bluff West.
RidgeWood West
RidgeWood West is another great choice for families, with a convenient location on the western outskirts of Winnipeg that allows you to get away from the hustle and bustle of the city without feeling like you're sacrificing modern conveniences. Nearby, you'll find Tom's No Frills, Shopper's Drug Mart and Subway, as well as RBC and Scotiabank.
You can still get your nature fix right in the community, though. RidgeWood West is connected to the Harte Trail, a seven-kilometre stretch of trail that's part of the Trans Canada Trail system. Built on an old railway bed, the Harte Trail has crushed limestone surfacing, parking and lots of things to see, such as the Thundering Bison Trail, the Assiniboine Forest and the Van Roon Prairie Garden. Among these there are also walking trails and beautiful man-made lakes to provide a beautiful backdrop for your everyday life.
RidgeWood West is close to the Pembina Trails School Division, so you won't have to worry about a long commute to get the kids to school. The closest one is Westdale School, but you'll find plenty of others conveniently within reach as well. In fact, the Pembina Trails School Division contains 34 schools!
You can choose from over 20 home designs here, and the layout of the community provides a lot of cul de sacs, which have larger yards and quieter roads for your little ones to ride their bikes. Talk to Philip Musick to get started on finding the ideal one for your family, or to be one of the first to visit our upcoming new showhome at 108 Creemans Crescent!
Taylor Farm
If you prefer the small-town lifestyle, Taylor Farm might just be the spot for you. It's west of Winnipeg in Headingley, and the community has been carefully constructed to maintain many of the mature trees and forests whenever possible. Located along the banks of the Assiniboine River, there are walking trails through the Basswood forest and everything here just feels a lot quieter and more peaceful.
One of the unique features of this community is the ability to build a home that has a walk-out basement. You'll be able to walk directly from your home into a beautiful natural area. It's also designed for larger lot sizes, making it the perfect place to raise your family without feeling crowded in by your neighbours.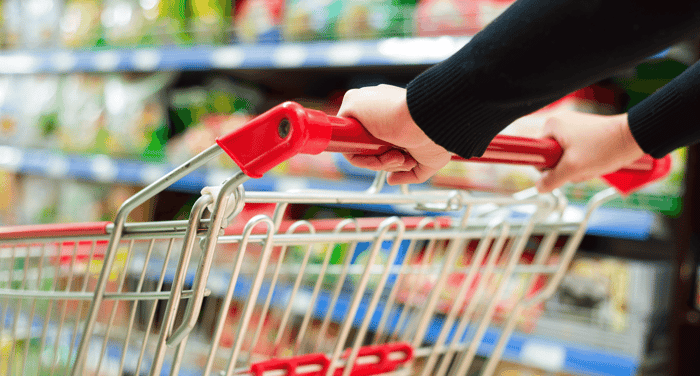 When you need to take advantage of modern conveniences, a short drive towards Headingley brings you to a selection of restaurants such as Nick's Inn, Subway and Husky House, and a few more minutes heading east gets you right into the city centre.
Taylor Farm also has a showhome at 3 Fetterly Way. At 1,890 square feet, this bungalow (based on the Delano model) features a two-door front attached garage, three bedrooms and two bathrooms. With a home this big and Taylor Farm's larger lot sizes, you'll never feel like you're running out of space. To take a look at this beautiful community, contact Reinhart Wittmiaer and arrange a visit!
We're excited about all of our communities in Winnipeg, and we think you'll like them to. Come take a tour to help you get a sense of what each community is like. This can help you narrow down your choices to find the best spot for your family.