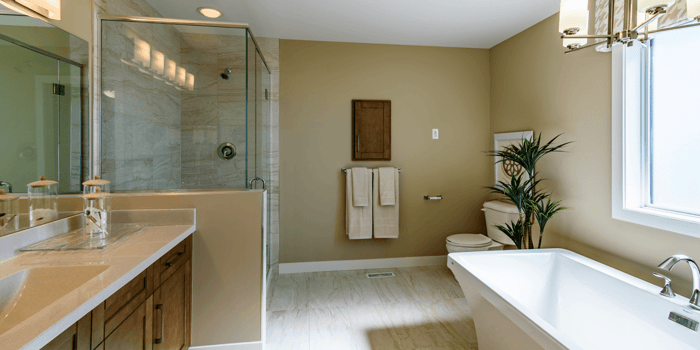 It's amazing to think that homes built only 40 years ago didn't normally have more than one bathroom, let alone a master ensuite like we have today. It's hard to imagine a home without an ensuite now, especially since most of them are designed to be a relaxing sanctuary within your own home. Although it seems like a major expense to make your ensuite look like a million bucks, it doesn't have to be.
Some of the most popular upgrades can be made in your ensuite. Let's explore some of the newest bathroom design trends that can spice up your ensuite.
Free-standing Tub
When you think about a free-standing tub, you probably imagine a vintage claw-foot style. While you can still get these if that's the look you love, there are many other more modern options available. A free-standing tub looks like a work of art within your space and can bring an element of elegance into the room. To complete the experience, add a small table nearby for your wine, book, or any other handy items you might need during your relaxing soak.
Patterned Tiles
If you look through photos of vintage bathrooms, you'll notice one commonality: floor tiles were bold, vibrant patterns. This design feature contributes to why old homes carry so much more charm and luxury than most cookie-cutter homes today.
Moroccan patterns are very much on trend right now, but you can choose any tile that produces a unique design for your bathroom floor. To balance the vibrancy of your floor tile, keep the rest of your bathroom's design quite minimal. You can, however, carry the pattern into a towel set or other minor features of the space to balance out the look without being overwhelming.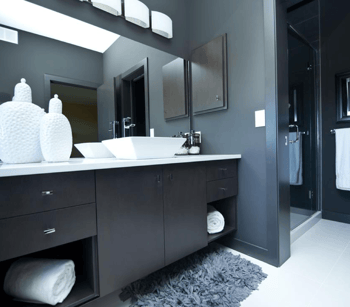 Dark Walls
Most homeowners will agree that using dark colours in a small space is a big no-no, but strangely enough this is becoming a big trend in bathroom design. Balanced properly, dark walls in a bathroom can create an extremely elegant and relaxing space. Depending on the size of your bathroom, you may choose to colour the entire room in a dark shade, or consider simply a feature wall. Contrast with natural fibres and textures such as bamboo rugs or natural wood cabinets to balance off the richness of the walls.
Throw Rugs
Say goodbye to the traditional bath mat. Throw rugs you might find in a bedroom are making their way into bathrooms as a uniquely different look and texture. Keep in mind, though, that these rugs are not the high pile kind; in a room with lots of moisture they may not be easy to keep clean and hygienic. Select the right rug for the space and you can really elevate the design of the space.
Luxe Soaps
Seriously, this one makes a difference. Use handmade soaps as part of your design to give your bathroom that five-star luxury feel. It may seem like something small and insignificant, but displaying these specialty products adds to the overall sophistication of the space. You may even consider adding special shelving near your shower or tub for this very purpose.
Wall-mounted Faucets
By wall mounting your faucets, you create an element of surprise in the design of your bathroom. Depending on the design of your faucets, this can be a very unexpected and delightful design element. By mounting them this way, you will also save valuable countertop space and prevent surfaces from collecting water around the base of the faucet, keeping the space easier to clean.
Free-standing Vanities
One of the most in-demand bathroom trends right now is a free-standing vanity, either designed to float along the wall, or even be constructed out of a piece of furniture such as an old dresser. This look makes your bathroom look more finished and comfortable, rather than clinical or cold. In addition to the style of vanity you include, think about having dual sinks to finish off the luxurious feel of this feature.
Multi-head Showers
This is a trend that started several years ago and has never waned. Multi-head showers are the epitome of luxury with their various nozzle pressures, spray styles, and positions. Not only is this kind of shower beautiful to look at, but it can be very therapeutic as well. Had a hard day? Soak yourself in a hot, steamy shower that massages all of your pain points.
Specialty Light Fixtures
The dining room and foyer aren't the only spaces that deserve a beautiful chandelier. Consider a special light fixture for your bathroom to add a significant amount of elegance to the space. Tie in the design of your ensuite to your master bedroom through lighting and finishes. Consider a dimming light fixture as well if you prefer to control the mood within the space.
Your bathroom is a space you spend quite a lot of time in throughout the day. You can make it look and feel like a custom space with some unique and trendy design elements that don't have to cost a lot. It's your space, and you should feel it is the ultimate getaway without having to leave your home.
Your classy, custom look doesn't end here. These 7 kitchen design trends for a custom look can turn your kitchen into as much of an elegant space as your ensuite.