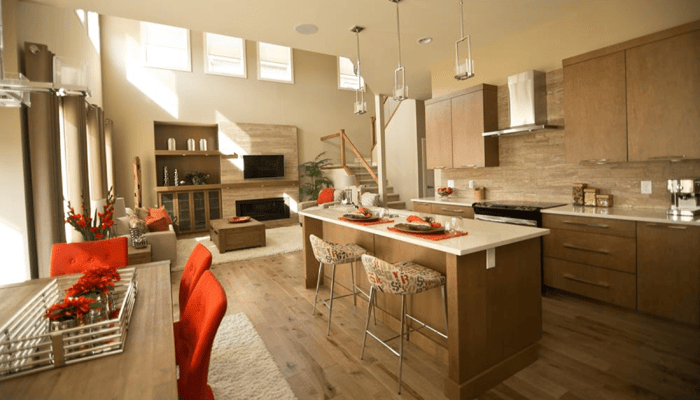 As you eagerly begin shopping for your next new home, you'll surely be looking for those ideal features you have long been wishing for. Perhaps it's a convenient upstairs laundry room, spacious walk-in closets, stunning open-to-below spaces, or simply a general ambiance of luxury and sophistication. Whatever your high priority items may be, home builders differ in what they offer you within the home's base price, and what will be considered an upgraded feature.
At Sterling Homes, we believe our homeowners deserve great quality, and as such we offer a vast array of included features to further highlight your selected home plan.
1. Natural Wood Cabinets
Everyone knows the kitchen is the heart of the home. As such, it should make your own heart pump with affection for its design. Included in your purchase price is your selection of Cambridge Oak, Manchester, or Traditional Maple cabinets with natural stain. In addition, upper and lower crown mouldings complete the intricate design of your cabinetry and set the tone for the rest of the house.
2. Your Fifth Wall

The ceiling in your home is sometimes called the fifth wall; often forgotten, but just as important as the other four. Your ceiling can make all the difference in how your space feels, especially in the case when you have a grand 18' ceiling as offered in some of our models. Instead of the standard, 70s-style popcorn design that so many other builders offer, Sterling Homes goes for the gold and automatically upgrades you to flat painted ceilings. This finish is usually a multi-level upgrade for other builders costing homeowners thousands; for you, well we think you deserve the finest of finishes.
3. Is 16 or 24 Better?
Decades ago, it was common knowledge that 16" on centre stud spacing was better construction; mainly because it meant your home was stronger. However, with better research and ongoing improvements to building codes and energy practices, we have moved to 24" on centre. Does this mean we're building cheaper? Not at all; having more space between the studs actually means your home is more energy efficient. Your resale value could be higher, and your home will be better protected against the extreme weather we face year-round.
4. Stylish Exterior

While so many other builders are simply offering vinyl siding and wooden front stairs, your home will stand out magnificently with your combination stucco/brick exterior (as per plan), and your precast concrete front steps(as per plan). It will be a long time before your beautiful laminated fibreglass shingles curl, with their 40-year limited lifetime warranty. Complete with dual Low-E argon filled with PVC liners or triple glazed sealed PVC, your home's curb appeal and will be second to none.
5. Starter Basement
When it's time to convert your basement into additional living space, some of the prep work will already be completed. Your frost walls are already framed, insulated, and finished with heavy grade poly. We also include roughed-in plumbing for a three-piece bathroom. No need to chop up your basement floor!
6. Best New Home Warranty Program
When you purchase a Sterling Home, you'll benefit from the 1-2-7 New Home Warranty Program. For the first year, your home includes comprehensive coverage on defects in materials, and labour and design. For the first two years, you'll benefit from coverage for defects in major systems, water penetration, exterior cladding, and material damage due to building code violations. And for a full seven years from your possession date, you'll be covered for structural defects. You can purchase a home from us with peace of mind.
The word "standard" may make you think of features that are typical and average. This is not the case with Sterling Homes. We strive to make our standard synonymous with elegance and high-quality; after all, you deserve a home built to last.