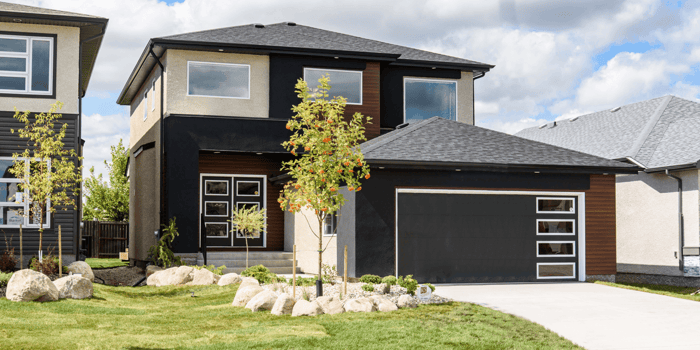 There was a time when the thought of living in a brand new community was a bit off-putting. The idea of living in a construction zone, the dust never seeming to settle, and a master bedroom view of big orange machinery and even more dirt was simply not appealing to most. Although these things are still the reality of a new community — it's hard to avoid dirt in a location under construction – land developers are doing so much more today to make the process more pleasant and the end result worth the journey to get there.
1. Not Just Houses
More than just bedroom communities, new areas are designed to be miniature towns within the big city. In many new communities, a town centre of sorts is incorporated into the design, offering plenty of premium amenities near home such as restaurants, grocery stores, medical centres for both humans and pets, and even fun things like hair salons and more. In addition, new recreation centres are being constructed in some areas inviting new opportunities for your family. Homeowners need not leave their own area to access their lifestyle activities.
2. Low Crime
With a new community comes plenty of activity. New residents are moving in, construction is still taking place, and there is generally a flood of movement. Because of this, crime is very low in new communities. Residents are more watchful; their new home is something in which they take pride, and homeowners are more attentive to the happenings around them.
3. Green Space Galore
Virtually all new communities are being developed with plenty of green space. Parks, walking paths, and playgrounds are all part of the design, and new trees are planted throughout the area to improve the air and the environment. They also make the neighbourhood look far more appealing, and even though the trees will take time to mature, seeing leaves on the fresh trees each spring will still be invigorating and signify new growth and opportunity.
4. Water Features
Although these features in new communities are in place for a specific function, they contribute a great deal to the appeal of the community. Mainly in place as stormwater ponds — a place for extra rain to collect to prevent flooding — these features are home to plenty of wildlife, from birds to fish to butterflies and the ever-important honeybees. Although not swimmable, they are a wonderful skating surface in winter (only in mid-winter and only where signage permits). Their sparkle in the sunshine brings a level of comfort in your neighbourhood and brings a little bit of the lake back home.
5. Sense of Commonwealth
A new community provides a fresh start and new opportunities. New neighbours bring new friendships. Your children will grow up together, and as a whole, the homeowners within the neighbourhood grow with the community. You're generally new residents at the same time, rather than being the new homeowner on the block of older homes where the neighbours have been there for decades. Everything is new, and you have the opportunity to see it grow. This gives you a sense of pride and belonging in your new area.
6. Quieter Place to Live
New communities are generally constructed away from noisy infrastructure, making your new home a far quieter place to live. With more parks and green space surrounding new areas as well, there is more absorption of the sound around you. Homeowners in a new community generally have pride of ownership, and move there for this very reason, meaning collectively your neighbours will all be hoping for the same thing: peace and quiet.
7. Age Is Far In the Distance
Because of the nature of a new community, things won't look old for quite a long time. Fences will be fresh and in a consistent condition, buildings will all be new, and roads and sidewalks will remain in good condition for some time. Your neighbourhood will have a desirable appeal for many years to come, equating to sustainable high property values. And as your neighbourhood ages, new features are usually installed such as newer commercial spaces, playgrounds, and parks, refreshing the stature of the community and maintaining its newness.
There are plenty of reasons to move into a new community. The best reason is that your family will find a new home in which to plant roots and feel a sense of ownership and pride for many years to come.