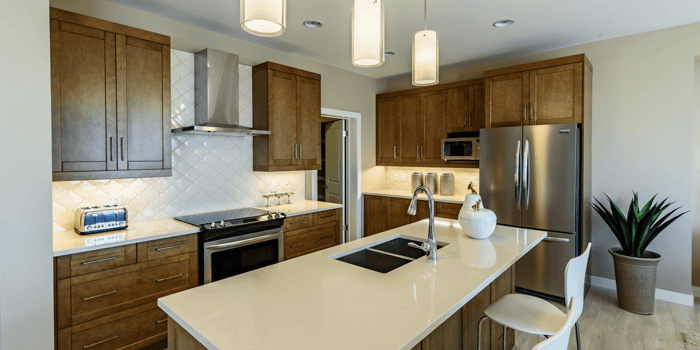 Whenever we make a purchase of any kind, we naturally look for the best value. My grandfather was a stickler for best value, comparing the number of Kleenex sheets in one package versus another brand versus the price. Shopping like this may seem a bit over the top, but for some, this is how they ensure they're getting the best value.
Buying a home is no different. After all, this is likely the biggest purchase in your lifetime so it should be something to consider carefully. Ensuring you get the best value in your new home purchase will ensure your satisfaction and enjoyment of your own home, and will also ensure you retain the best value in your home moving forward, should you ever decide to sell.
1. Number of Bedrooms/Bathrooms
For most, a three-bedroom, two-and-a-half bathroom home is enough to support their families. This is the most common floor plan available on the market today and is the most in-demand home. For this reason, ideally, you'll want to purchase this type of home if you ever plan to sell later on.
Any less or any more bedrooms and you'll likely reduce your number of potential buyers significantly. One or two bedrooms really only work for single buyers or couples with no children, and four or more bedrooms generally end up pricing your home out of its own area (it'll be more expensive than others in your neighbourhood).
Of course, if you personally have a need for a smaller or larger floor plan, by all means, select a floor plan that fits your needs; however, keep in mind, it could affect your home's appeal to future buyers.
2. Overall Design & Appeal
As you visit more and more show homes, you'll begin to see a pattern of what you like versus what you don't. You may start to realize the homes you don't like have very little to do with the floor plan and more to do with the overall presentation. The trimwork, attention to detail, colour selections, and finishings come together to present an entire experience within a house, which can make it feel more like a comfortable home you can see yourself living in.
By making these kinds of selections for your home, minor differences can translate into huge value. Be careful when selecting your trim package, including your baseboards, and door and window trims. By choosing a package that's more detailed with beautiful caps over windows and doors, and a higher height baseboard (4" minimum), you'll give your home a more complete look.
When selecting colours, stay away from giving every room its own colour scheme. Rather, select a neutral palette throughout and consider painting one feature wall in your great room, master bedroom, and each secondary bedroom. This will ensure your choices are not overwhelming to the space and will provide better visual balance. This way, you're also less likely to grow weary of the colour so quickly.
3. Kitchen Upgrades
Choose a balance between standard features and upgrades. You may be able to combine things like thermafoil cabinets (which have come a long way in terms of design in the last few years) with granite countertops and an upgraded set of hardware. This will create an upgraded look in your kitchen without costing you extra thousands. If you don't like thermafoil, choosing a standard cabinet with a modern stain colour will also yield the same result.
Of course, if you do have the budget, upgrading your kitchen and bathrooms adds the most value to your home. There are top kitchen features to look for that offer plenty of benefits in this regard. The colour and style of cabinets you choose set the tone for the rest of the home. Natural wood always carries the most appeal, combined with a detailed door style and classy hardware. Select a complementary granite or quartz countertop in a thicker size (ideally thicker than 1 ¼") with an eased edge (bullnose is unappealing with most layouts today, especially if you install an apron sink).
4. Flex Spaces
Choose a floor plan that offers a loft, den, or bonus room space. A room like this will add value to your home in that it is multipurpose and can be changed over time with your changing needs. Some floor plans offer these spaces as an option without attaching a major cost, so select your floor plan based on these needs.
When building your home with spaces like this, consider having the builder construct built-in cabinetry to suit your needs. It's better to have it finished when you move in, than attempting to find the funds or the time to do it on your own later.
5. Your Overall Wish List
Take a peek at the things you wish you had in your current home. What sort of items are deal breakers? What can you maybe live without for a while and add in later on? Are there fixtures you want outside the home, such as a deck or landscaping?
Whether it's slight alterations to a floor plan to add more function for your family, or sophisticated upgrades for a more refined home, these items add value to your home in terms of your pride of ownership. The best time to include these items is now; have a conversation with your builder about how your new home can encompass everything on your wish list.
By thinking ahead to the many ways you can add value to your home, you will ensure that the items you choose now will cost less than doing them on your own later to potentially save you thousands of dollars.